Minister's help for under-threat Arriva bus services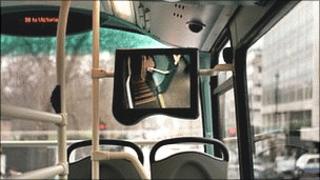 Short-term funding is to be given to some bus routes in and around mid Wales after Arriva Buses Wales announced they could be scrapped.
A depot in Aberystwyth, Ceredigion, and stations in New Quay, Lampeter and Dolgellau could shut on 21 December, meaning six routes could go.
The transport minister said the Welsh government would provide funds for the X94 service from Wrexham and Barmouth.
Edwina Hart will look at awarding other contracts under emergency procedures.
Local operators could take over in the short term while longer term solutions for a sustainable network of services were sought, she said.
The 20, 40, 40C, 50 and 585 are all currently under threat following the announcement, which could lead to the loss of 46 jobs.
Arriva Buses Wales blamed public transport funding and fuel costs for the decision.
Mrs Hart told the Senedd in a statement: "Funding for the X94 service from Wrexham and Barmouth, which forms part of the TrawsCymru Network, will be provided by top slicing the regional transport services grant.
"We are continuing our discussions with the local authorities about the funding mechanisms for the remaining services."
She added that local authorities had powers to subsidise services that they considered to be socially necessary.
However Ms Hart warned that government support of bus services and community transport schemes was likely to continue to come under "considerable pressure".
"We need to be more imaginative and look for innovative solutions to our public transport provision in Wales," she said.
"We also need to look at all the issues around the help and assistance that we give to bus services in Wales and how we can better deliver regional transport."
After the announcement at the start of October, Aberystwyth University's student union president warned of "bedlam" as a result of the bus cuts.
Ioan Rhys Evans said: "It would have a massively detrimental effect on student life in Aberystwyth."
He said many students without cars would be stranded in Aberystwyth, or face a five-hour train journey to reach areas such as Swansea.