Robbie Savage treated for altitude sickness on Kilimanjaro trek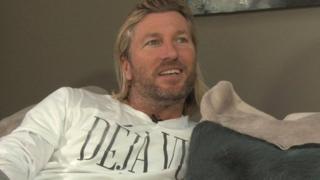 Former Wales footballer Robbie Savage has been treated for severe altitude sickness after falling ill during a charity climb up Mount Kilimanjaro.
The Wrexham-born midfielder was struck down at 12,000 ft (3,657 m) of the 19,341 ft (5,895 m) peak in Tanzania, and had to quit the challenge.
The BBC pundit has been tweeting about his ordeal, saying he had fluid on his lungs and his oxygen levels were "dangerously low".
He thanked fans for their support.
The father of two fell ill on Sunday.
'Awful, scary situation'
He said on Twitter: "Thank you all for your get well messages, I'm out of danger now after good work by doctors and my guide in Kilimanjaro, severe altitude sick."
Savage said it was "an awful and scary situation" adding: "Thought my head was going to explode, dangerously low oxygen in blood."
The former Strictly Come Dancing star told followers he suffered vomiting and dizziness and had to descend to below 9,000 ft (2,743 m) quickly.
Savage, who played for Leicester City, Birmingham and Derby County during his long football career, said: "So scary, but thankfully I'm OK now and my team are doing wonderfully well, so brave and great people."
"Life is far more important than my ego, I hope every one of the 25 left do it they deserve to."