Post offices in Wales to benefit from revamp grant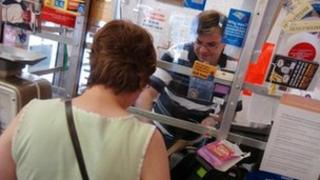 Thirteen post offices in communities across Wales are receiving money to help improve their services.
The Welsh government said the branches would benefit from the grant scheme which is worth around £170,000.
Post offices in Powys, Carmarthenshire, Conwy, Neath Port Talbot, Newport, Rhondda Cynon Taf and Swansea will receive money.
A small branch in Bryncae in Rhondda Cynon Taf has been given £20,000 towards improvements.
The grants are from the Welsh government's Post Office Diversification Fund which helps post offices expand their businesses and provide new services for the community.
Paramjit Uppal, the post office manager at Bryncae, described what the money would be spent on.
"The £20,000 funding we're getting from the Welsh assembly is just a tiny fraction of what plans we have for the post office," she said.
"Our post office is within our convenience store and we have requested planning permission to double our shop floor space which will allow the post office counter to be integrated to the front of the business.
"This will then enable us to open longer hours."
The Post Office has said the number of people using its branches has fallen by nearly a third in the decade up to 2012.
In 2000, Post Office branches greeted 28 million customers a week but that figure fell to 20 million in 2012.
Including stand alone branches, there are now 11,800 post offices in the UK but 6,600 a year closed in the years between 2000 and 2012.
Communities and Tackling Poverty Minister Jeff Cuthbert said: "The Welsh government is committed to taking action to improve local communities and economies. These grants illustrate our support of Wales' post office network."