David Cameron has 'some sympathy' over dog hunting laws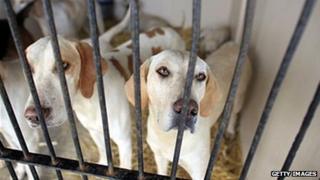 The prime minister has "some sympathy" with MPs seeking to change the law on hunting with dogs, Downing Street says.
Welsh MPs from the Conservatives, Liberal Democrats and Plaid Cymru support a change to enable farmers to use packs of dogs to control foxes.
David Cameron's spokesman said there was a deal in the coalition agreement to allow for a free vote on the issue.
The League Against Cruel Sports opposed any changes, saying it would be a bid to repeal the law "by the back door".
A maximum of two dogs are allowed under legislation introduced in 2004.
The Federation of Welsh Farmers' Packs (FWFP) has published research carried out in Scotland which it says "shows clear need for change in the law on fox control with dogs".
The federation is campaigning to amend the law on hunting with dogs so that a number of dogs can be used to flush out foxes to be shot, which it said was a quicker and more effective method of managing the fox population for farmers.
The law in Scotland still allows an unlimited number of dogs to be used when shooting foxes.
Ken Jones, FWFP chairman, said: "The law as it stands is a joke.
"Everyone knows that trying to find a fox in thousands of acres of forestry with two dogs is nigh on impossible and, as the fox population grows, our lamb losses rise.
"There was never any justification for the two-dog limit and what this research shows is it is as bad for the fox as it is for the farmer."
Lifting the ban on the number of dogs used to hunt foxes is a "pragmatic solution to a problem which is prevalent in rural Wales", according to Carmarthen West and South Pembrokeshire MP Simon Hart.
Mr Hart said any change in the law would be "relatively harmless" and that "most sensible people will see it as sensible and not controversial".
Pest control
Brecon and Radnor MP Roger Williams said many farmers in his constituency had approached him with concerns that the killing of lambs by foxes had been worse this year than in previous years.
He said increasing the number of dogs flushing out a fox would make pest control "more effective" and "play a part in improvising animal welfare".
Hill farmer Derek Morgan, from Llangurig in Powys, said a change would be welcomed.
"The hunting ban was aimed at what Labour saw as posh people on horses, but the people who have suffered most are working class hill farmers whose incomes are already well below the UK average," he said.
Mr Morgan, chairman of the Farmers' Union of Wales hill farming committee, added: "It's a small step the government can take to show they really support hill farmers and it would not change the basic principles of the Hunting Act."
But Joe Duckworth, chief executive of the League Against Cruel Sports, said any change would be "nothing but an attempt at repeal by the back door, as the pro-hunt lobby know they can't get a majority to repeal the Act overall".
A Department of Environment Food and Rural Affairs spokesman dismissed any suggestion that the law on hunting could be relaxed, saying that any change would require a change to legislation.
"We have no plans for a vote on this," he added.