£20m flood protection works planned around Wales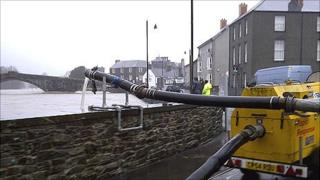 Flood defence improvements to help protect more than 2,000 homes and businesses vulnerable to flood risk in Wales have been unveiled.
The £20m works will be carried out at Cardiff, Newport and Swansea as well as tidal embankments along the Severn Estuary.
Work in Dolgellau, Gwynedd, aims to protect around 160 homes in addition to the town's fire and ambulance stations.
The projects will be be carried out by Natural Resources Wales (NRW).
The schemes include:
£7m to protect 627 homes and 72 businesses in Crindau, Newport
£6m works and improvements to tidal defences to reduce flood risk for 387 homes, 52 businesses and the fire station in Roath, Cardiff
£1m flood defence walls replacements in Penclawdd, Swansea
£1m to improve tidal embankments along the Severn Estuary to reduce the flood risk to part of the M4 motorway, 833 houses and 197 businesses in Newport
A further £5m has been earmarked for improving existing flood defence walls in Dolgellau.
Announcing the extra cash on Monday, Natural Resources Minister Alun Davies said: "While we cannot stop or fully prevent flooding, we are doing all we can to manage the risks and reduce the consequences.
"Not only that, but it will also help to create and secure local jobs within the construction industry."
Natural Resources Wales chief executive Emyr Roberts said Dolgellau's fire and ambulance station were part of "critical infrastructure" for the emergency services that would be protected.
He said: "These additional funds of £20m will be used in our ongoing work to protect people from the devastating impact that flooding brings to homes, businesses and communities.
"We are also helping people to prepare themselves and their communities as part of our Flood Awareness Wales programme.
"We cannot prevent all flooding - but we can prepare so we know what to do if the worst was to happen."