Bone marrow donor campaign for Wales launches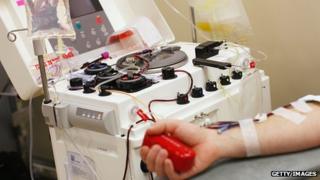 A new campaign to raise awareness about becoming a bone marrow donor in Wales is being launched.
There are an estimated 20,000 people worldwide desperately searching for a possible match to an unrelated donor.
In Wales, more than 75,000 people have already joined a database of potential marrow donors, but the Welsh Blood Service says many more are needed.
As part of the campaign, a choir of donors, patients and medical staff has been brought together to perform.
The '2nd Chance Choir' will be making their debut at the Wales Millennium Centre later on Monday, as the campaign kicks off.
It is the first time the Welsh Blood Service has run a bone marrow donor awareness programme.
Dr Keith Wilson, consultant haematologist at the University Hospital of Wales in Cardiff, said with bone marrow donors it is always about having a choice from as many people as possible.
"What are the chances of you walking down your street and meeting your exact double, who is like you in every way," he explained.
"It is not very likely. But if you are searching for that double among thousands and thousands of different people, perhaps you will find that match.
"That is what the bone marrow donor register is about.
"It is a worldwide register - the person who needs treatment here in Wales, may be a match to a donor in Europe, America, Asia - anywhere in the world.
"So we need as many people as possible to sign up for the register to see if they can help."
'Painless' donation
He said he was treating one patient who would be getting a donor matched from Japan or China.
"Basically, the bigger the pool of people who are registered as donors, the better the chance of a match," he added.
Dr Wilson said Wales was already doing well in the league table of donors registered but even more could be done.
The Wales bone marrow register is asked to make about 30,000 searches a year to find a possible donor match, and since 1989, more than 850 people in Wales have gone on to become donors.
Anyone who is already registered as a blood donor can become part of the marrow register, and a small sample of blood is taken at a donation session.
The bone marrow can be used to treat a wide-range of cancers, as well as help rebuild damaged immune systems.
The procedures for actual donation if a match is found have also changed dramatically.
It used to mean an operation involving anaesthetics and painful injections.
Now the preferred method is to collect the marrow from blood.
"We can collect the donor marrow much more efficiently this way - it just means being hooked up to a machine for four or five hours" added Dr Wilson, who is chair of the south Wales blood and marrow transplantation project.
"So it's not painful - perhaps boring - you just need a long book."