Junk food tax not ruled out by Plaid Cymru leader Leanne Wood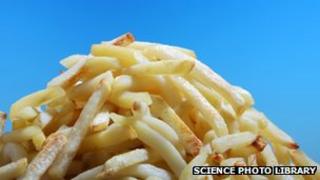 Plaid Cymru leader Leanne Wood won't rule out a tax on junk food if her party wins the assembly election in 2016.
She told BBC Sunday Politics Wales that money raised from such a tax should subsidise "good quality wholesome food" for people.
Ms Wood unveiled at Plaid's conference on Friday a proposal for levy on sugary drinks of up to 20p a litre.
She said that policy would finance the recruitment of 1,000 extra doctors.
Asked whether she would build on the introduction of a sugary drinks levy and start taxing items like chocolate and crisps, Ms Wood said: "I wouldn't rule out taxing junk food.
"What I would want to do with any additional monies raised from that is to ensure that good quality wholesome food can be provided cheaper and everywhere for people because that's a big problem at the moment.
"It's a crazy situation that you can buy poor quality food - food that's bad for you, food that is more likely to make you obese - than you can find good quality food in many parts of Wales.
"That's a ridiculous situation," Ms Wood said.
"Governments everywhere use taxation to incentivise and dis-incentivise various behaviours.
"I'm not announcing now that we are going to introduce a tax on burgers for example but I do think something needs to be done about the proliferation of fast food outlets in our communities.
"There are far far too many, it's too easy and too cheap and very, very bad for people," said Ms Wood.
A spokesman for Wales Labour, responding to the sugary drinks levy idea, said: "Linking the promotion of an unhealthy lifestyle, in order to pay for improved medical services, is a not sensible way forward.
"This ill-thought idea, shows how out of touch and out of ideas Plaid are."
But the Liberal Democrat AM for Mid and West Wales William Powell, who also chairs the assembly petitions committee, said that there could be a role for government in this area.
"There's certainly merit in looking at a raft of proposals to encourage sensible behaviours in terms of diet," he said.
"In fact the committee that I chair - the petitions committee - just last year was looking at a petition to create a cordon around all schools to ban hot food takeaways from offering attractive, tasty but ultimately very unhealthy food options to pupils that they would readily take because that's what kids do," said Mr Powell.
In January Wales' chief medical officer has suggested banning fast food outlets near schools.
Dr Ruth Hussey said keeping children in school at lunchtime and providing healthy meals could help tackle obesity.