Carwyn Jones warns of powers 'disaster' over Silk Commission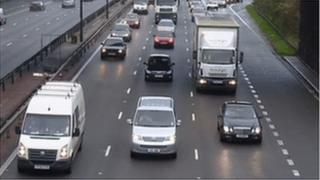 It will be a "disaster" for Wales if borrowing powers recommended by the Silk Commission are not devolved, First Minister Carwyn Jones has warned.
He told BBC Radio Wales' Sunday Supplement that without more powers to borrow money, planned £1bn M4 improvements "will not happen".
Mr Jones will raise his concerns with the UK Government in Downing Street later this week.
Last month, David Cameron denied blocking further devolution.
The prime minister told BBC Wales he was attracted by the idea of the Welsh government being able to raise some of its budget.
But he said "the bubble in Cardiff is completely obsessed by powers" whereas the real issue was economic recovery.
Almost a year ago, the commission set up by the UK government and chaired by former assembly clerk Paul Silk, said ministers in Cardiff should be given the power to vary some tax rates.
A decision had been initially expected in the spring.
The first minister was asked if he thought that the Silk recommendations had been permanently kicked into the long grass.
Mr Jones said: "It'd be far better for everybody if they were simply to say - yes we'll accept the Silk recommendations, we can all move on.
'Competitive disadvantage'
"I can then say to people in Scotland - this is an example of devolution working and why independence isn't needed. At the moment from a Scottish perspective, all they can see is devolution being blocked by UK government in London."
Mr Jones told the programme it would be a disaster for Wales if the Silk proposals were not implemented.
"We literally could not do things. We could not improve the M4 without borrowing powers - it will not happen."
The proposals to ease motorway congestion around Newport, with options of routes swinging south of the existing M4, are currently out to consultation.
Chancellor George Osborne has called it one of the most important road schemes in the UK.
But there is increasing frustration at waiting for a decision on whether the Welsh government can have the powers to borrow money to finance it.
"If we don't get sense on this then the M4 relief road can't even be considered, whereas it could be, if it was being built in England, Scotland or Northern Ireland," said Mr Jones.
"Now, that is for our business community an enormous competitive disadvantage, that we cannot do things to improve jobs in Wales, to improve the economy of Wales, simply because of what's happening in Wales.
"Why should Wales be discriminated against in that way? That's the point I'll be making."
Mr Jones will be attending a meeting of the Joint Ministerial Committee Plenary meeting on Wednesday.