Retail 'optimism' but consumer confidence grows little, survey finds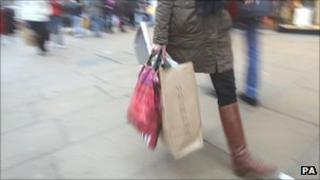 For every one person who is happier to splash out at the shops than they were six months ago, there are at least two more who are not, a survey has found.
Consumer confidence remained static for more than half of people (56%) according to a Beaufort Research poll of more than 1,000 across Wales.
Retailers say good summer weather was a boost to trade.
Cardiff Retail Partnership said there was "definitely an air of confidence from consumers".
Experts said the mixed findings reflected different economic effects.
More than 1,000 people were surveyed last month for the latest quarterly poll, commissioned by Beaufort for the Western Mail.
It found:
Just over one-in-nine adults (12%) said they felt more confident now about spending money on non-essential items than they did six months ago.
However, more than twice as many (30%) said the opposite, that they were less confident now about slashing out on non-essential items.
Confidence about buying non-essential items was lowest in the south Wales valleys (9%), compared to the average for Wales (12%).
Newport-based University of South Wales business lecturer Dr Jonathan Deacon said the results showed "very subtle improvements" in Wales' economy were being felt in different ways in different places.
He said: "Some will feel the benefit earlier than others. It is no surprise places like Cardiff and Aberystwyth - with students and tourism - feel buoyant.
"They will feel the benefits sooner than in areas like the valleys that are reliant on secondary or primary industries. It takes a while to work through the system."
David Hughes-Lewis, of Cardiff Retail Partnership and Jonathan David Jewellers, said his trade was showing a "very good year-on-year rise" which he partly attributed to sunny days.
Christmas
He said: "The weather has been so much better than we had last summer. Clothes stores have enjoyed a good summer. When the sun shines, the tables and chairs in the city centre are full.
"Everyone is still finding it tough but there is definitely an air of confidence as far as consumers are concerned."
He added that he was "cautiously optimistic" that stores could expect good Christmas takings.
Chris Mackenzie-grieve, chair of Aberystwyth Chamber of Commerce, which represents about 70 shops and businesses, said Aberystwyth was proving "quite resilient" economically.
He said the town benefited from being a "micro climate" with a large student population and Welsh and local government offices in the area.
He said: "A lot of it is founded on the public sector which is always a worry with the cuts coming up but generally I get the impression things are picking up.
"I'm not saying it's anywhere near back to 2007 but my sense is business confidence is picking up."
'Marginal'
Mr Mackenzie-grieve said one positive indicator was the low retail unit vacancy rate in the town, at around 7%.
He said: "Those that become available tend to go fairly quickly. That tells you that people are becoming more confident about the economic environment and are starting to spend a little bit more.
"It's marginal growth but it's coming back. I'm fairly upbeat."
The Beaufort Wales Omnibus survey interviewed a representative sample of 1,019 adults in 69 locations across Wales between 13-24 September 2013. 4. Interviews were conducted in respondents' homes using CAPI (Computer Assisted Personal Interviewing).