New pacemaker returns Gaynor Wright to 'normal' life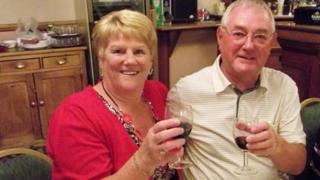 A woman has described taking her "first deep breath in two years" after becoming the first person in Wales to have a new procedure to control her heart.
Because of her scarred heart, Gaynor Wright's original pacemaker was not effective.
But its replacement can be "fine-tuned" to her needs by her consultant at the University Hospital of Wales, who can even upload data from it transmitted wirelessly via the internet.
Mrs Wright, 65, from Beddau, near Pontypridd said: "I'm back to normal."
Her problems started in May 2011 when she ended up in hospital while on a holiday in Cyprus for her 40th wedding anniversary.
On her return she underwent tests and it was eventually found she had a serious heart problem and by October 2012 she had her first pacemaker fitted.
She said that although it was supposed to "kick in" if anything serious happened to her heart, it did not improve her health and left her breathless.
The retired nurse had to give up a rambling group and enjoying long walks over Pembrokeshire Coast Path.
Eventually, walking her grandchildren to school or even walking up the stairs became difficult.
Mrs Wright's problem was complicated because her heart has scar tissue which means that the original pacemaker could not really improve her day-to-day condition.
'Blowing like a whale'
But her cardiologist Dr Zaheer Yousef was awaiting approval for a new treatment and said she could be a suitable candidate.
The replacement pacemaker fitted in May has a new type of system to control her heartbeat and keep the whole muscle beating in synchronisation.
It has improved her heart's overall effectiveness as all sections of her heart were not previously working in unison.
Dr Yousef, a consultant at University Hospital of Wales in Cardiff, has more flexibility to pace the heart so if ever a new problem presents itself then there will be a better chance of being able to adapt to it without surgery.
And the pacemaker is fitted with a tiny device that connects wirelessly to a transmitter in Mrs Wright's home to upload data over the internet to Dr Yousef.
Now she is enjoying life again and her husband David, 70, says she is no longer "blowing like a whale" as she used to struggle for breath.
"Within an hour after the procedure I took my first deep breath in two years," said Mrs Wright.
"After about four weeks I was walking to school to collect my grandchildren."
Dr Yousef had been working for three years on clinical trials involving 45 patients in the Cardiff area along with other trials elsewhere and they were awaiting formal approval before it could be used on patients.
At that time Mrs Wright was referred to him after having her original pacemaker fitted at the Royal Glamorgan Hospital.
He says the adaption to the resynchronisation (biventricular) pacemaker allows cardiologists to "fine tune" or individualise the device.
While the pacing configuration was right first time for Mrs Wright other patients may need to have their pacemaker's pacing reconfigured before it suits their needs.
He reckons it will help about 20% of the 100 patients with similar conditions referred to him annually as well as countless others.
"She has really seen the benefit," he said.
"The additional pacing options will not only give us the opportunity to offer this treatment to patients like Gaynor with very scarred hearts, but the additional pacing options will also allow us to individualise pacing configurations for all patients."
Mrs Wright says she is enjoying life again and finding pleasure in small things like doing away with a mountain of pillows as she used to try to sleep while sitting up in bed so she could breathe.
"It's absolutely amazing," said Mrs Wright.