Anglesey Sea Salt secures £1.2m expansion cash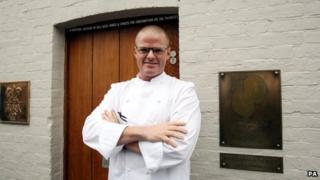 A salt-making firm which claims TV chef Heston Blumenthal among its customers says it has secured £1.2m to expand and build a visitor centre.
Anglesey Sea Salt said the proposed salt plant would allow it to take on up to five staff and boost production.
The firm has been using shipping containers and portable offices at Brynsiencyn for the past seven years.
Its hand-made Halen Mon Pure White Sea Salt is exported to 15 countries and is also a Tesco Finest brand.
Co-owner David Lea-Wilson said the firm had been working for a decade to replace the temporary structures used by its 17 staff to process the salt harvested from nearby mussel beds.
He said the tipping point came with an award of just under £200,000 by the Coastal Communities Fund which had triggered an investment of more than £500,000 by himself and partner Alison Lea-Wilson.
The firm has also been offered £100,000 through the Welsh government's economic growth fund with the aim of creating new jobs and safeguarding existing ones.
In addition Anglesey council had "chipped in" £25,000, he said. Private sector sources accounted for the remainder.
He said: "All the funding is in place now. We just need one more piece of the jigsaw, planning permission from Anglesey council."
The firm already has full planning permission for the plant but amended planning permission for a visitor centre was applied for in June and will be decided later this year.
Mr Lea-Wilson said production had been running at full capacity for the past few months. The firm produces around 500,000 containers of salt per year, ranging in size from a 3g sachet to a 25kg box.
He said the company had around 6,000 visitors per year but was unable to accommodate them properly due to the nature of the food production process.
The new building will have glass walls overlooking the production process and guided tours, he said.
Last year the firm developed a new product, smoked water, at the request of Blumenthal, owner of the three-Michelin-starred Fat Duck restaurant in Berkshire.
Orders for the product from Marks & Spencer had created two jobs at the site, Mr Lea-Wilson said.