Man's body in Anglesey bungalow 'for a very long time'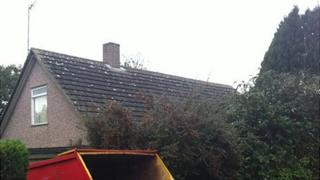 The body of a man found at a house on Anglesey had been there for a very long time, a coroner has said.
Dewi Pritchard Jones, senior coroner for North West Wales, also said a woman living at the bungalow in the village of Llandegfan was being cared for in hospital.
A post-mortem examination proved inconclusive, he said, and samples could take six weeks to analyse.
North Wales Police said the death was not being treated as suspicious.
The man's body was discovered on Saturday. The woman also living there is now being cared for at Ysbyty Gwynedd hospital in Bangor.
Mr Pritchard Jones said neighbours had been "expressing concerns to the police and the police thought they had better take a look".
DNA match
He described the body as in a "very poor condition" but refused to speculate how long it may have been in the house.
He stressed there was no evidence of a crime but added: "At present we've got no reason to suspect any foul play but we've got no reason to exclude anything either."
Establishing the identity of the man beyond all doubt could prove impossible, he said, as the man they believe it to be had no children and no siblings from whom a DNA match might be found.
Asked if it was thought the dead man was the husband of the woman living at the property, the coroner said: "We can't say it's the woman's husband's body - that would be a guess."
He said three investigations were being carried out - a medical one, one by the police to try to establish who the man was, and a third "to try to establish what on earth was going on in that house".
"We've got an awful lot of questions but very few answers," he said.