'Postal chain should dump scam mail' says Age Cymru charity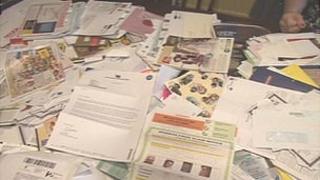 Scam mail should be filtered out at the beginning of the postal chain and disposed of at sorting offices to protect vulnerable people from receiving it, a charity has said.
Age Cymru said barriers must be built between fraudsters and older people.
It comes as a cross party group of Welsh AMs meet to discuss ways of preventing pensioners receiving scam mail.
The National Fraud Authority said every year in the UK £6bn is lost to scams.
Age Cymru's campaigns co-ordinator Gerry Keighley said: "We want to see some protection for older people and for vulnerable people from scams.
"This means we want to see barriers created between older people and the scammers by both legislators and the big telecommunication industries that currently inadvertently host the scams.
"We believe some of the scam letters could be filtered out because you can see through the cellophane wrapper that they are offering outrageous sums of money that cannot possibly be genuine.
"They have to filter them out at the beginning of the postal chain."
'Devastating impact'
Widow Shirley Whitman, 78, from Cardiff, told BBC Radio Wales she had received two to three scam letters a week for the last five years.
She said: "It makes me cross because I know that other people will fall for it. I don't normally open them, they look very genuine.
"I know a lot of people, they won't admit it usually but they do answer these things. One lady in her late 80s was sending them off regularly and she was housebound and I think once you're housebound having a letter of any sort can be something."
A cross party group of AMs will meet at the assembly on Wednesday to discuss the issue.
Chairman of the group Mike Hedges, Swansea East AM, said: "What's especially upsetting to note is that there's one community in particularly that's being targeted by fraudsters and criminals - older people.
"Such crimes have a devastating impact on so many older adults each year and can leave them in a very vulnerable and helpless position."
Andrew Bertie, head of Scambusters Wales, will give evidence at the committee.
"Scammers are organised criminals who set out to con people," he said.
"They commit fraud on a large scale and live a lavish lifestyle. Studies have shown that such incidents are hugely under reported, mostly due to embarrassment on behalf of the victim and the thought people may have that they can no longer cope."
He said 63% of scam victims are repeatedly targeted.
Age Cymru will also call for 'No Cold Calling Zones' across Wales.