Carwyn Jones's hope for Pisa world school ranking rise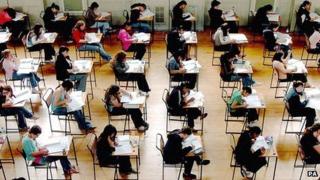 The first minister says he expects Wales to have improved its position in a worldwide ranking of schools systems, despite warnings to the contrary.
The next Pisa results, which test the abilities of 15-year-olds in reading, maths and science, are due in December.
Wales was ranked lowest of the UK countries in the 2010 results.
Carwyn Jones says he expects Wales to do better but there have been previous warnings it may be too soon to see the results of reforms.
Concern about schools standards was prompted by the worldwide Pisa assessments, which are published by the international body the Organisation for Economic Co-operation and Development (OECD).
The tests ranked Wales as the lowest country in the UK in December 2010 with Wales' teenagers below average, alongside the Czech Republic, in reading.
Out of 67 countries taking part, Wales was ranked 38th for reading, 40th for maths and 30th for the tests for science.
At the time the then-education minister Leighton Andrews called the results "unacceptable" and said everyone involved should be "alarmed".
The rankings led to changes being brought into the education system with the aim of getting Wales into the top 20 countries by 2015.
But last year, Mr Andrews - who has since left the cabinet to be replaced by Huw Lewis - was reported as saying that he did not expect the changes to deliver a "real improvement" in time for December.
Education expert David Reynolds, an adviser to the Welsh government, has also said that "nobody is expecting the Pisa 2013 results to be very different from what they were in the Pisa before".
'Gap narrowing'
At question time in the Senedd on Tuesday, Mr Jones said he expected to see an improvement in December's results.
"We saw the improvement in GCSE results with the gap narrowing even against the results in England... so it's absolutely right we should say that," he said.
"The other thing we've done, of course, is to make sure that school spending is protected in the budget.
"That's something that you would expect me to say; that is a commitment we have as a party.
"I contrast that of course with the desire of the opposition, the Conservative Party, to cut the education budget by 12%."
The OECD compares educational outcomes in dozens of countries.
In December 2012, Mr Andrews asked it to review Wales' education system and to look for "further value" that can be added to Welsh government reforms.