Councillors reject latest Bwlchyllan lake plans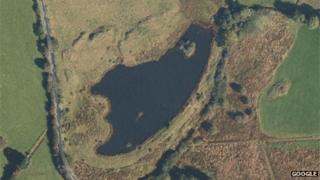 A farmer has lost the latest twist in a 20-year-long legal battle for planning permission for a large lake.
John Rogers built Bwlchyllan lake and embankment near Lampeter in 1991 without permission and Ceredigion council wanted the land restored due to safety fears.
Mr Rogers has been fined twice by magistrates for ignoring an enforcement notice.
Councillors refused to accept the lake had become part of the landscape.
Following the vote councillors asked officers to put enforcement action in place to require Mr Rogers to remove an embankment which would in effect get rid of the lake.
The lake is on sloping land and is about 180m (590ft) long and 80m (262 ft) at its widest point with a depth of 3.7m (12 ft).
A retrospective planning application was refused in January this year because it again failed to demonstrate that the lake was safe.
But it has since been deemed "as safe as can reasonably be expected," allowing planners to recommend approval of the plans.
Despite the long legal history, councillors were asked to deal with this fresh application on its own merits.
A planning report said the lake has now become part of the natural environment and landscape.
"Whether rightly or wrongly the lake has now been in existence since 1991, a period of over 20 years," says the report.
"As a result the site has been given the opportunity to develop naturally so it is surrounded by natural vegetation with reeds along the lake shore and on a small island in the centre of the lake.
"The embankment is now completely covered with mature vegetation which broadens densely on the lower reaches of the embankment."
Meanwhile, structural engineers say because the lake and embankment have managed to survive significant flooding over the last 20 years, they should be considered stable.
Councillors have also been told that there may be water voles at the lake and Natural Resources Wales wants an investigation to see if they do live there.
But opponents are worried that the embankment is not safe and could give way at some point.
Geoffrey Stubberfield, who lives near by, said: "We have concerns that the bank could be well unstable.
"Nobody saw how it was built. It's terribly dangerous. If there's a catastrophic collapse, it could mean lives."
And Michael Jones, who also lives close to the lake, added: "There's evidence of weeping from it but it hasn't collapsed."