Firm considers appeal over rejected Anglesey leisure park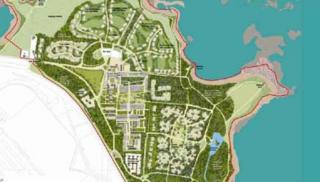 The firm behind plans for a 800-lodge resort on a country park on Anglesey say they will appeal if planners do not reverse their decision to refuse it.
Developer Land & Lakes wanted to create a "quality destination" leisure resort, which it is claimed would create 600 jobs, faced opposition over its size and impact.
The development is based at three sites at Penrhos, Cae Glas and Kingsland.
Councillors rejected the plans by five votes to two with one abstention.
The plans will now come back to a further meeting of the authority on 6 November because the refusal was against officers' advice.
Land & Lakes chief executive Richard Sidi said an appeal would be the "last resort".
"I'm shocked [with the refusal] after three years working with the planning officers who imposed quite extensive conditions," he told BBC Wales.
"I'm equally shocked at the reaction from the local people. We've had nearly 100 people begging us not to give up on the project."
800 lodges
He added that someone had set up an online petition which had 600 signatures from the local area.
The proposals submitted had planned for Penrhos to be the base for the leisure resort with approximately 500 lodges and cottages and a water park along with a sports hall, spas, saunas, restaurants, walking and cycling routes.
Cae Glas would have been used in the short term to house workers for building the Wylfa B nuclear power station and will also be home to a hotel, football and cricket pitches.
It would have later been turned into extra 315 lodges and a nature reserve will be created.
The Kingsland site would initially have had 360 houses which would be used for construction workers building on the Cae Glas site before being turned into residential housing.
Land & Lakes had been working with land owners Aluminium Metals, Anglesey council and the Welsh government on the matter.
The former smelting works at the Anglesey Aluminium Metals (AAM) site was closed in 2009 and put up for sale the following year, with offers invited in the region of £10m.
First Minister Carwyn Jones called the proposals "ambitious" when they were announced 12 months later, adding that the plans could "enhance the tourism offer of both Anglesey and north west Wales".
Anglesey council also welcomed the proposals for the site.
But opponents to the scheme have "significant" concerns over its size.
Natural Resources Wales said it did not object to the proposal in principle but was concerned about the impact on an area of outstanding natural beauty.
'Flagship for Wales'
The development had conflicted with the adopted development plan which meant the Welsh government could have called in the application for determination had it been approved by Anglesey council.
"I want to make sure people realise the benefits this application brings," Mr Sidi added. "It should be a flagship for Wales.
"It's not a Centre Parcs, but it's similar. It's a real bonus - it's hundreds of millions of pounds we are looking to invest.
"I think there was a worry about the scale of the development but there's something bigger that's about to hit Anglesey and that's the Wylfa B project.
"An appeal is the last resort but we would have no option. We've got an officer's recommendation here.
"It's not a route we want to go down though."
Following last week's decision to turn down the application, council leader Ieuan Williams and spokesman for economic development Aled Morris Jones said: "This has been an emotive application which has been met with much local objection.
"The application, however, also offered significant opportunities for job creation and economic growth which was also widely recognised.
"As planning committee members chose to vote against officer recommendation, there will now be a one month 'cooling off' period before the application returns to the committee to be ratified."