Caerphilly council: £488,000 for top staff 'unlawful'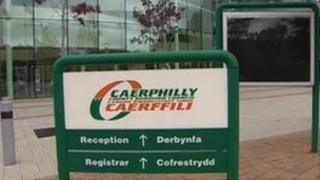 A council at the centre of a police investigation into pay rises for senior staff spent more than £488,000 on unlawful payments, it has emerged.
Auditors declared Caerphilly council spent £270,364 unlawfully last year.
But a subsequent review, revealed in the council's annual accounts, shows an additional £218,563 was paid unlawfully.
The council said it had voluntarily referred the matter to its external auditors a few months ago.
Its chief executive and deputy have been questioned by police investigating the payments.
Recently published accounts for 2012/13 show Caerphilly spent £102,709 on a buy-out of essential car use allowances and £115,854 on a buy-out of additional annual leave.
The payments were considered unlawful because they were decided by people without the appropriate authority, the accounts say.
A Caerphilly council spokesman said the payments had been referred to auditors.
They come on top of the £270,364 considered unlawful by the Wales Audit Office (WAO).
The accounts show five top officers, including chief executive Anthony O'Sullivan, received unlawful salary payments worth a combined £94,081.
'Significant failings'
Mr O'Sullivan got unlawful payments totalling £25,182.
In March, an Audit Office report said pay rises for 21 senior staff at Caerphilly were unlawful because the committee meeting which approved a new pay structure - recommended in a report written by the chief executive himself - had not been advertised properly.
The matter is now being investigated by Avon and Somerset Police.
A separate report by the WAO published last month says Caerphilly council has "significant failings in its governance arrangements".
As a result, the Auditor General is conducting a special inspection of the authority.
Former chief executive Stuart Rosser was brought back in as interim boss of the council in July.
He left in 2010, but returned to replace Mr O'Sullivan who has been suspended along with deputy chief executive Nigel Barnett.
The council's accounts say: "Certain officers, including the chief executive, who would have been (and were) beneficiaries of the decision were present throughout the meeting to approve the salary increases.
"No declarations of interest were made and these officers did not leave the room whilst the decision was made.
"In doing so, they participated in the decision-making process."
A council spokesman said: "We have received confirmation from the Wales Audit Office that they consider payments made to senior officers relating to the buy out of car allowances and additional annual leave as being 'unlawful expenditure'.
"A few months ago we voluntarily referred the matter to our external auditors and it is still being investigated. We are currently awaiting their view on the matter."