Conwy tourism discount for locals proposed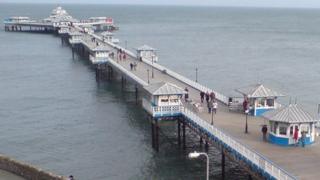 A card giving people in Conwy county a discount on local tourist attractions could help save jobs, say council officers.
Tourism is worth more than £600m a year to the local economy and Conwy council wants to encourage more residents to spend money at sites and attractions.
The proposed "Conwy Card" would give locals a 20% discount and it is hoped it could boost income out of season.
Attractions in the area include Conwy Castle and Llandudno's Great Orme.
Councillors will vote on the plans.
One of the first businesses to back the scheme was Llandudno Ski and Snowboard Centre.
Manager Nigel Treacy said: "It's amazing the number of people who live in this area who've never been to the war museum, or never been up Snowdon or been to the ski centre.
"There are some fantastic facilities on site and places to visit and explore like Conwy Castle etc, and it's amazing the number of people who have never been to them."
The report before councillors said tourism also indirectly accounted for up to 11,200 jobs, around 30% of the jobs available in the area.
It said the proposed card aimed to encourage local people to visit attractions to "keep money circulating in the local economy".
As well as smoothing out seasonal peaks and troughs in tourism trade, it would also help promote the county as a "staycation" destination for residents, it said.
Councillor Graham Rees, who is responsible for tourism in the county, said the card also aimed to address some of the cost of visiting an attraction regularly.
'Affordability'
He said: "If you've got three or four children, it's very expensive to visit one of our tourist attractions.
"We hope this will solve the problem of people from the affordability point of view and will also help the trade in the winter months when things are quiet."
The report acknowledged there was a risk not enough attractions would sign up for the card or there could be a lack of take up by residents.
The local authority discusses the card on Monday with a final vote by the council's cabinet on Tuesday.
If the proposals are approved, the aim is to deliver a card to some 55,000 homes by May next year.