Flautist Chloe-Angharad Bradshaw wins Bryn Terfel prize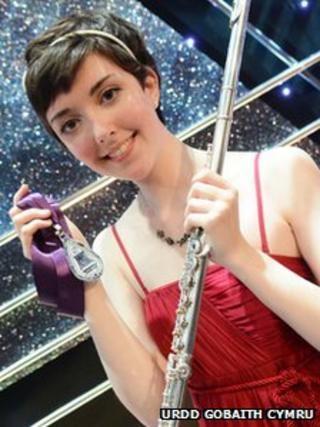 An Oxford University music student has won the Bryn Terfel Scholarship at the Urdd Gobaith Cymru youth competition in Aberystwyth.
Flautist Chloe-Angharad Bradshaw from Hengoed, Caerphilly county, took the £4,000 prize following a concert at the Great Hall in Aberystwyth Arts Centre.
Judges called her a "master at creating the fine sound of the flute".
Ms Bradshaw plans to use the money to pay for travel expenses to overseas auditions for further study.
As well as her studies at Oxford, she is also president of the university's music society and a member of the orchestra and sinfonietta.
She said of the win: "I really enjoyed performing tonight, even though I was very nervous before performing my first piece.
"The other competitors were very professional, friendly and it was great to get a chance to share a stage with them.
"When they announced my name as the winner, I could not believe my ears and I just couldn't stop smiling.
"With the scholarship money, I am going to use it towards a masters degree. I've seen a few courses that appeal in Europe and the USA and this money will enable me to pay for flights to auditions abroad."
Judge Eirian Owen praised all six competitors, adding: "They were all experienced in their field and mature performers but the winner did stand out.
"Even though it was close, we were unanimous that Chloe was the winner.
"Chloe's technique on the flute is excellent. She is obviously a master at creating the fine sound of the flute and I'm sure that she will go far."
The prize was established by opera singer Bryn Terfel in 1999 to nurture young singing talent in Wales and is open to winners of eight specified competitions at the Urdd National Eisteddfod, an annual Welsh-language youth festival of literature, music and performing arts.