Business in Wales must tap into emerging markets, says trade group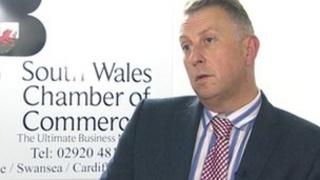 Companies in Wales could do more to export goods to new markets, according to the South Wales Chamber of Commerce.
Director Graham Morgan said businesses should create more opportunities to tap into emerging markets.
Wales exported £633m worth of goods to the Middle East in 2012, making it the fourth most popular destination.
The Welsh government said international trade remains a priority. A Royal Bank of Scotland report said firms could use markets like Mexico and Brazil more.
Making headway
Mr Morgan told BBC Wales Today: "There are certainly a range of mechanisms in place to move into new markets.
"I think there's probably a shortfall in the number of businesses that have fantastic products and fantastic services but don't appreciate that they can now be sold in overseas markets.
"And the more we can get business proprietors to think in terms of where they can be making headway in what has been a difficult economic market, the better for Wales."
Chris Howarth, managing director of confectionery company Bon Bon Buddies in Blackwood, Caerphilly county, said it was challenging trading across different parts of world.
He said: "You have to get it right in a completely different cultural environment so you have to be committed to learning a different set of rules of the game... every single market is different."
The Welsh government said they have a programme of trade missions and exhibitions in place which will take in markets including China, India, Brazil and Russia.