Welsh Language Society warns of new direct action campaign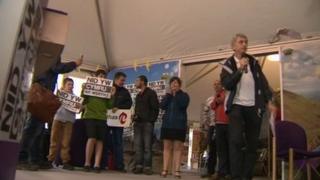 Language campaigners say they will start a campaign of non-violent direct action unless government policies to protect Welsh are put in place.
The motion with a deadline of February 2014 was passed at the Welsh Language Society's (Cymdeithas Yr Iaith's) annual meeting in Carno, Powys.
The 2011 census figures showed a drop in the number of Welsh speakers.
The Welsh government said it was committed to seeing the language prosper.
A Welsh government spokesperson said: "Cymdeithas must understand that those in government are as committed to growing the Welsh language and increasing the number of Welsh speakers as they are.
"This is not the 1960s or 70s."
'Facing an emergency'
Welsh Language Society chairman Robin Farrar said: "Nearly a year has passed since we saw the results of the census, and since then there has been a lot of talk and discussion about the situation regarding the language.
"There is by now a consensus that the Welsh language is facing an emergency and that we need big policy changes.
"We have said since the publication of the census results that we can't sit back and accept the consequences, with positive campaigning and political will we can change our destiny and the destinies of our Welsh language communities.
"If the government refuses to act on the six points we have outlined we will take direct but non-violent action.
"We have drawn up a list of people who are willing to act - campaigns like this have worked in the past and we're ready to do it again."
The Welsh government spokesperson added: "We are committed to promoting the Welsh language and since the census results we have been taking action. "
He said measures included a national conversation on the language, which gave everyone a chance to have their say on how best to secure its future.
"We have commissioned a number of reviews and studies, and will be receiving their reports soon. This autumn we will also be launching an information campaign for Welsh medium education.
"Meanwhile, we will be working with all those with an interest in the language to ensure it continues to thrive throughout Wales."