Welsh NHS 'rapidly improving' despite summer concerns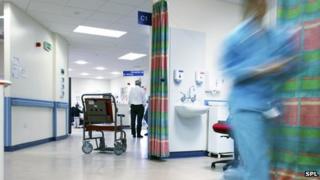 The Welsh NHS is "improving rapidly" after a year of difficulties, said its chief executive.
David Sissling said that the Welsh government had provided additional support which had resulted in improvements.
He said he was "impatient" to see further improvement across all health boards in Wales.
But BBC Wales has also learned of Welsh government concerns over hospital performance during August.
It raised "escalated concerns" about all the health boards in Wales apart from Powys - which does not have any major hospitals - in the delivery of urgent care and delays in providing hospital treatment.
There were also issues with the performance of five of the six on access to cancer treatment.
In some specific cases, the level of concern had reached the second highest level meaning there had been "continued failure and/or failure to maintain an agreed improvement trajectory".
Abertawe Bro Morgannwg Health Board and the Wales Ambulance Service had reached that level on urgent care.
Cardiff and Vale Health Board was at that level on referral to treatment times, and Cwm Taf Health Board on access to cancer treatment.
The Welsh government's data shows, at the time, there was additional monitoring of death rates at three health boards - Abertawe Bro Morgannwg, Aneurin Bevan and Cwm Taf.
Mr Sissling said the Welsh government had been providing extra support which had helped address the situation.
'Escalation working'
"The escalation needs to be seen in the overall context of improvement," he said.
"Looking at the main performance areas, the majority of them (the health boards) are improving and improving quite rapidly.
"That's because to a certain extent we have escalated when things move away from a pattern of improvement.
"We provide quite specialist support with clinicians involved in developing new plans - we provide the right kind external support where necessary.
"So the escalation system is working, enabling consistent improvement across a very wide range of areas."
Mr Sissling said some health boards were reacting more rapidly than others, and the Welsh government's job was to "be impatient".
"We continue to do that," he said.
Throughout the year, the Welsh government has faced criticism over the performance of the health service for failure to meet its own targets on:
urgent ambulance response times
lengths of stay in accident and emergency units
waiting times for a range of hospital treatments, including cancer
Mr Sissling said in his annual report that "unprecedented pressures" in the winter and early spring and, in particular, a sharp rise in demand for emergency care from very ill elderly patients had a knock-on effect on other parts of the NHS.
"We were unable to maintain our performance levels we had delivered in 2011/12 and earlier in the year," he wrote in his introduction.
"Much has been learned from this experience and the NHS is now planning not only for the rest of 2013 but for the next three years."
Despite the significant problems in urgent care, the report said the NHS had made progress in a number of key areas.
They include measures to increase quality and safety; progress in reducing the number of hospital-acquired infections; the development of delivery plans for a range of illnesses; and measures to promote more openness and transparency in the health service.