Flood risk yellow warning for Wales as heavy rain continues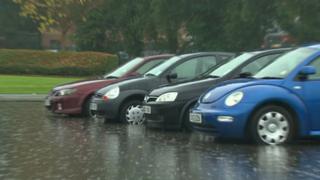 People are being warned of possible flooding as torrential rain is expected to continue across much of mid and south Wales over the next 24 hours.
Up to 20-30mm of rain is forecast to fall in an hour in some places, prompting the Met Office to issue a yellow "be aware" warning.
Natural Resources Wales (NRW) said drains, ditches and small streams may be unable to cope with the run off.
Flash flooding has been reported at Glyndwr University campus in Wrexham.
The Met Office issued a warning for the whole of Wales on Wednesday but mid and south Wales are expected to be the worst hit by the downpours and thunder on Thursday and into Friday.
A yellow alert is the lowest level of severe weather warning issued, and asks members of the public to "be prepared" for adverse weather.
A Met Office spokesman said: "Wales is in the firing line for some very heavy rain in the next 24 hours. It looks the south will be worst affected by the downpours.
"Drains blocked by leaves and small streams may be unable to cope with the torrential rain. There is a risk of flooding.
"Despite the heavy rain, it will still feel mild and muggy, with temperatures above average at 17C to 20C."
NRW said: "People travelling to and from work are advised to take extra care as driving conditions may be hazardous.
"People should also avoid walking or driving through any flood waters as they could become trapped or swept away."
The Met Office said its yellow warning will be kept under review, with the possibility that it may need to be extended into Friday.