Slavery inquiry: father and two sons in crown court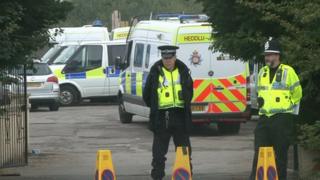 A father and two sons have been further remanded in custody charged with slavery offences.
The case against Daniel Doran, 66, David Daniel Doran, 42, and Thomas Doran, 36, was heard in their absence at Cardiff Crown Court.
The defendants were due to appear via videolink but the case continued without them due to technical problems.
Their arrests had followed a police raid at a farm on the outskirts of Newport.
The men face charges of false imprisonment, conspiracy to hold a person in servitude and conspiracy to force a person to work.
Thomas Doran is also charged with kidnapping by fraud.
A date of 21 October was set for a bail hearing for Daniel Doran.
A plea and case management hearing for all three has been scheduled for 12 December.
A preliminary trial date has been set for March next year.
The prosecution indicated that although investigations continue, the case is unlikely to grow substantially.
Their arrests followed a police raid at a farm near Marshfield on the outskirts of Newport where a Polish man was found living in poor conditions.
The raid at Cariad Farm took place as part of a police inquiry started after a British man was found living in poor conditions at the same site in March.
A third man aged 60, also British, was found during a raid at a former plant nursery in nearby St Brides in September as part of the investigation, called Operation Imperial.
Last week police said the "unprecedented" inquiry was sparked after a man was found in March at Cariad Farm in Peterstone, near Marshfield, after being missing for 13 years.
He had vanished while on holiday in the south Wales resort of Porthcawl.