Lord Kinnock 'escorted' from Cardiff City seat at Craven Cottage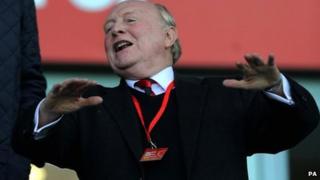 Former Labour Party leader Lord Kinnock has admitted he was escorted from his seat at a Cardiff City football match but says it was all "good humoured".
The confusion happened when the lifelong Bluebirds' fan mistakenly sat in the home stand at Fulham's Craven Cottage ground in west London.
When Cardiff scored in the 12th minute, Lord Kinnock said he celebrated with "great joy, standing up".
Moments later he and his family were "shown" to the away stand.
Lord Kinnock told BBC Radio Wales: "I went with two of my grandchildren and my son.. didn't give it a second thought, sitting in the front row by the corner flag and everybody was very pleasant.
"The game started and then in the 12th minute I did what I've done for 65 years of supporting the city and leapt up, and so did the kids."
It was claimed Lord Kinnock celebrated "wildly" in the home stand but he said: "I don't think I went wild but I did express great joy, standing up, there's no doubt at all about that."
His grave error was pointed out a short time later.
"Within a minute or so the Fulham stewards, who were a model of courtesy, said 'Mr Kinnock we think you might be more comfortable in the Cardiff stand'," he said.
"So I said, 'ok, where would that be?' And they pointed to some seats and I said that would be fine."
'Very good natured'
The former vice president of the European Commission was then escorted from his seat.
"The stewards acted quite quickly and the last thing I wanted to do was cause them any trouble or offend anyone's sensibilities. I thought I was just in a mixed section," he said.
Lord Kinnock said he and his family walked the 25 yards into the Cardiff section where they were "greeted with some warmth" and "had a much better view of the game".
"Everyone was very good natured and good humoured," he added.
Lord Kinnock has been a fan of Cardiff City since his coal miner father took him to his first match aged six.
Lord Kinnock was an MP from 1970 until 1995, first for the Bedwellty constituency and then for Islwyn.
He was Leader of the Opposition from 1983 until the Labour Party leadership election in 1992.
Lord Kinnock went on to become the European Union's transport commissioner and vice president of the European Commission from 1999 to 2004.
In January 2005, he was elevated to the peerage becoming Baron Kinnock of Bedwellty.