Dance interview graduate Alan Bacon lands 'dream job'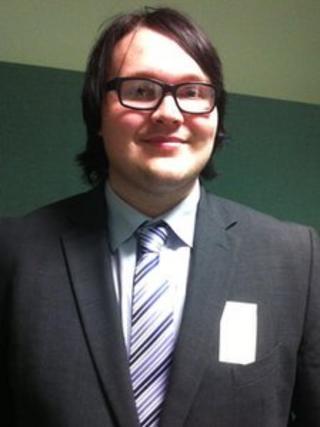 A university graduate who was asked to dance at an interview says publicity from his experience helped him land his "dream job" in London.
Alan Bacon hit the headlines last month when he was asked to perform robotic-style dancing to a Daft Punk song when he went for a job at Currys in Cardiff.
Mr Bacon, 21, has now been offered a position with a company supplying the broadcasting industry with equipment.
He described his latest interview as "normal".
Mr Bacon starts his new job in about a month's time and he said the publicity from his Currys interview helped him secure his new role.
"The reason my new employer contacted me was because they heard about my story on the BBC," said Mr Bacon.
"I had an interview on Saturday and the job was confirmed on Monday."
He said his new employers travelled to Bristol to hold the interview, where Mr Bacon has a month's temporary work.
"It's my dream job and I wasn't asked to dance at this interview. We just sat down with a drink and had a chat. It was just your normal, average interview and one of my better ones, I think," he added.
"I'll be learning on the job about sales, testing equipment and perhaps I'll even help design new equipment in the future."
Mr Bacon had been looking for work since gaining his degree in documentary, film and TV from the University of South Wales in July.
Last month he said he was finding the process "extremely hard" because so many people were job hunting.
After finding out he had an interview for a sales assistant role at Currys Megastore in Newport Road, he was told he would have five minutes to talk to interviewers about his hobbies.
Armed with photographs to highlight his love of astronomy, he went to the group interview.
But he said he was left "incredulous" as the group was told it was being split into two, with each having to make up a dance "like a scene out of [BBC TV comedy] The Office".
Mr Bacon, who had moved to Cardiff from Newport in the hope that it would help his job search, did not get the Currys job.
He said he had spent a hectic few weeks doing media interviews since the story hit the headlines.
"One of the highlights for me was when the interview technique adopted by Currys was made a joke of on Never Mind the Buzzcocks [BBC TV music comedy programme]," Mr Bacon said.
Reflecting on his robotic-style dance moves, he added: "I wasn't disturbed by the interview at Currys. I just wanted to highlight the technique they were using and that it shouldn't be used."
Currys has since apologised.