Welsh government criticised over health debate no-show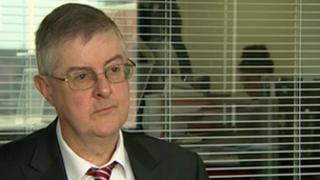 Opposition parties have criticised the Welsh government's decision not to attend a TV debate on the NHS.
Health Minister Mark Drakeford pre-recorded an interview for BBC Wales' Week in Week Out instead of joining the debate on the health service.
The Tories described it as "disgusting" and Plaid said it was a "scandal".
The Welsh NHS has been under unprecedented pressures with financial constraints and more demand for key services such as A&E and elderly care.
The debate came as an opinion poll for the show found three quarters of those asked were confident the NHS would offer high quality health care.
But a similar number also did not know how and where to complain about the service.
The debate in Cardiff included a selected audience of patients, staff and politicians from the opposition parties.
Welsh Labour, which has been responsible for the health portfolio in Cardiff Bay since devolution in 1999, refused an invite to send a representative.
Plaid Cymru Health spokesperson Elin Jones said responsibility had to be "taken by Welsh politicians and Welsh Labour politicians."
"It's a scandal that they're not here tonight engaging in this national debate about the future of the NHS. They should be here and they should be taking responsibility," she added.
The need for change in the NHS in Wales was highlighted by many of the contributors and is why, speaking after the debate, Shadow Health Minister Darren Millar AM said it was important to hear Labour's vision for the service.
Conservative Mr Millar said: "We need to hear about what the government is planning to do in order to put some of things right that have gone wrong in the past.
"It's the minister that's ultimately accountable for the performance of the NHS in Wales - for its failures, for its successes.
"The fact that he can't be bothered to turn up to talk about those I think is frankly disgusting."
The NHS in Wales is estimated to be facing a cash shortage of nearly £404m for the current financial year - compared to £330m last year.
At the same time, a number of key targets such as cancer waiting times, accident and emergency waiting times and ambulance response times have been repeatedly missed.
Kirsty Williams AM, leader of the Welsh Liberal Democrats, agreed it was important to hear solutions from Welsh Labour.
"We've had over a decade of Welsh Labour running the NHS with a situation now where routinely they're missing their own targets," she said.
"They should be here, firstly to defend their record, but also to explain what are they going to do make things better.
"But as we see week in, week out, we have a first minister that cannot acknowledge the problems that the NHS is facing and hasn't got any solutions."
Earlier on Monday, First Minister Carwyn Jones defended the decision at a monthly press briefing.
He said: "As I say we've given a statement. It's not bad, if you get the health minister on a one-to-one (interview), that's a pretty good result for any programme."
Opinion poll
In the same briefing Mr Jones also tried to take on "myths" about the health service, saying patient satisfaction was high and that in some areas - such as access to cancer drugs - the NHS in Wales was outperforming England.
In his pre-recorded interview for the debate programme, Health Minister Mark Drakeford said: "The Welsh Health Service remains the truest of any of the four UK nations to the founding principles of [Aneurin] Bevan.
"We are determined in Wales, in a way that simply has been abandoned elsewhere, to continue to provide a national health service that is planned and provided on the basis of clinical need.
"That's the sort of service that is so valued by patients, that's the sort of service they know in Wales they will continue to receive."
The debate also revealed the outcomes of an opinion poll commissioned by BBC Wales which showed nearly three-quarters of people questioned were confident the NHS in Wales would give them high quality healthcare when needed but more than a quarter were not.
The ICM poll of 750 people across Wales found almost half were not satisfied with the way health boards were running services.
The survey also found that while 82% of people questioned were satisfied with their overall experience of the NHS, 15% - one in seven - were not.
And nearly three-quarters said they did not know exactly how and where to complain about the NHS in Wales.
Week In Week Out can be seen on the BBC iPlayer for the next seven days