Eos Welsh music copyright tribunal to consider decision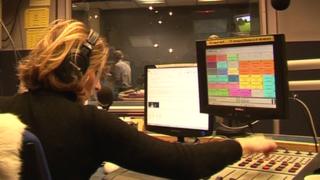 A decision on how much the BBC should pay to broadcast Welsh-language music is due within weeks as a copyright tribunal ends in Caernarfon.
Eos, an agency for some Welsh music producers, wants to raise the fee for the use of their work to £1.5m a year.
At an interim hearing in April, the tribunal ordered the BBC to continue paying Eos £120,000 a year.
The dispute forced BBC Radio Cymru to drop much of its most popular music and cut its broadcast hours for six weeks.
The three members of the tribunal sitting at Caernarfon Crown Court will issue a written judgment within the next few weeks.
The judgment will state the value the tribunal has decided to place on the Eos repertoire, as well as some of the conditions relating to the duration and renegotiation of the licence.
BBC head of Welsh language programmes Sian Gwynedd told the hearing earlier this week that the temporary ban on playing music by Eos artists earlier this year had been the biggest crisis Radio Cymru had ever faced.
Eos musicians including Bryn Fon and Dewi Pws Morris were in the tribunal room on Friday to hear the closing submissions made by barristers acting on behalf of Eos and the BBC.
Gwion Lewis, for Eos, said the "future of a music culture" was in the hands of the tribunal, and repeated Eos's belief that the BBC should pay an annual fee of £1.5m for the right to broadcast their members' work.
Mr Lewis said the figure took into account what Eos believes to be the "premium" value of the works, which were produced by a relatively small number of composers and broadcast primarily by one radio station, BBC Radio Cymru.
Mr Lewis added that the BBC's public service remit meant it had to support minority languages in the UK, and that Radio Cymru was under an obligation to do more than "hold a mirror" up to the Welsh-language music industry.
Mr Lewis said the BBC was "not wishing to put its money where its mouth is" when it came to its obligations for supporting the industry.
'Market rate'
Lindsay Lane, for the BBC, said the corporation wanted to pay an annual fee of no more than £100,000 to access the Eos repertoire, claiming that even this sum was a "mark-up" on the true value of the music when compared to the market rate.
Ms Lane added that there was "no justification" for the fee being proposed by Eos, and that there was "no coherent framework" for Eos's approach to deciding an appropriate fee.
She said the BBC realised the importance of Welsh-language music to Radio Cymru listeners, and that the station supports and invests in the industry in a variety of ways.