Ballet dancer Jack Widdowson's attacker's sentence increased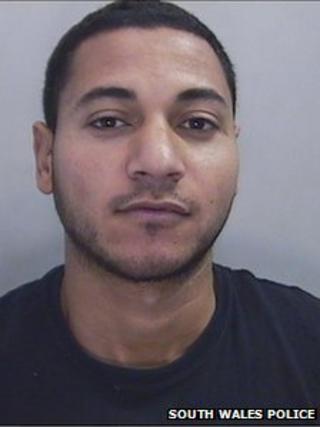 A man who attacked a ballet dancer, broke his neck and left him lying in the street has had his sentence increased from 13 to 18 years.
Mohammed Ali Mohamoed, from Cardiff, was jailed in June for the attack on Jack Widdowson, 19, from Somerset.
The appeal court said it was a "callous" and "ruthless" attack and Mohamoed was a danger to the public.
The Attorney General said the "brutal" attack on a canal towpath could have easily ended Mr Widdowson's career.
Mohamoed was found guilty of causing grievous bodily harm with intent but cleared of attempted murder.
Mr Widdowson, an apprentice dancer at the Bern Ballet Company in Switzerland, was attacked on a night out while visiting his brother, who was a student at Cardiff University.
Rehabilitation
His mobile was stolen and he was left for dead on the outskirts of the city centre near East Tyndall Street just after midnight.
The dancer, who has performed just two days before the attack on 5 November 2011, suffered a broken neck and it was feared he would be paralysed
But after eight months of rehabilitation including hydrotherapy and physiotherapy sessions he was able to dance again and even performed at Glastonbury this summer.
Mr Widdowson later said ballet was his "passion", and the attack had made him more determined than ever to succeed.
His family called his recovery a "miracle" and he has since been able to resume his ballet career.
On Friday the Court of Appeal quashed Mohamoed's original sentence and substituted and extended one of 18 years, comprising a custodial element of 13 years and an extended licence period of five years.
At his original trial the judge ruled that Mohamoed, an illegal immigrant, should be deported after serving his sentence.
But the three appeal court judges ruled there was no such thing as automatic deportation and Mohamoed could spend years resisting removal from the UK on the grounds that it would infringe his human rights.
The extended sentence was to meet the danger Mohamoed could pose to the public if released from prison but not immediately deported.
The new overall sentence means, that whenever he is released from prison, Mohamoed will remain under supervision for the full 18-year period, or until he is deported.
Appeal Judge Lord Just Pitchford said: "In our view, so targeted, so ruthless and so callous were the circumstances of this offence that this man quite plainly is a danger to the public."
Attorney General Dominic Grieve, who had challenged the adequacy of Mohamoed's original sentence, said: "This terrible attack, on a promising young ballet dancer, could easily ended his career. Mohammed Ali Mohamoed used brutal violence on his victim and left him severely injured and in a paralysed condition on a tow path in Cardiff.
"I am pleased that the Court of Appeal found Mohammed Mohamoed a dangerous offender and increased his term to an extended sentence of 18 years."