Teenager Hero Melia takes on divorce ambassador role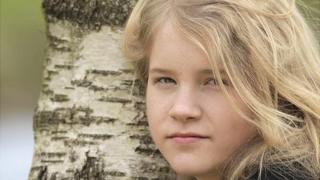 For 14-year-old Hero Melia, watching the collapse of her parents' marriage left her feeling isolated and feeling that she was to blame.
"My parents divorced when I was five. I was very little but I remember thinking I should have done something differently," she said.
"I felt utterly at fault. It's natural because you see your parents in love and suddenly they're not.
"I just felt on my own."
Now, nearly a decade on, she is using her experiences of being a young child in the middle of a difficult divorce to help others.
As a newly-appointed ambassador for the charity Kids in the Middle, which aims to support young people when their parents separate, she hopes to reach out to others who are struggling with family life.
And she hopes highlighting the experiences of being a child caught between two parents will help put in place guidance that adults can draw on when going through a divorce.
Hero's mother, Lady Alice Douglas and her father Simon Melia, divorced in 2003.
The family home in Capel Curig, Snowdonia, had become a place where Hero and her younger brother Tybalt - now 13 - had to watch their parents trying to make their struggling marriage work.
Ms Douglas said: "The one thing that holds you together are your kids. I was furious and hated Simon in so many ways.
"But you are so committed to your kids and hate to see them suffer and the one thing that makes it better [for them] is for him to come home. So we kept trying to rectify our relationship before we eventually split up.
"My son was hugely affected by it. With Hero, if we had an argument, she would be the peacemaker which is a heavy burden for a child.
"I remember asking her two years after we completely split up, why did she think we divorced and she said it was because of her.
"She said 'I didn't give you time to talk'."
Now, Hero appreciates that the collapse of her parents' relationship was not her fault, but she says she still sees children who feel the same raw emotions when in the middle of a divorce.
"It's what a lot of children feel," said Hero, who is a talented harpist and singer who has appeared on the ITV talent show Britain's Got Talent and now attends Chetham's School of Music in Manchester.
"I have got so many ideas having gone through it myself and I thought it would be good to help other people."
The teenager was approached by Kids in the Middle after a family friend passed on a song she had written - Piggy in the Middle - about her parents' divorce.
She said part of her role would be to share her experiences with other children but she also wants to share her ideas about making a divorce easier for families.
'So heartbroken'
Next Friday she will address more than 100 family lawyers at an event in Leeds.
"There's lots I want to share, representing the children's side of things," she said.
"I don't think there's a lot of support for children and parents during a divorce.
"For example, when parents split up, they are often so heartbroken that they don't think of a logical way to sort it all out.
"So I think there should be a plan for them to follow about how to handle a divorce and how to split arrangements to see their children as I don't think that's done very well.
"And often parents don't talk in the nicest way to the other parent so they should have a note written down to explain to the children about why they are splitting up. They should write it together so nobody is getting more of the blame.
"I think parents don't understand how much children equally love both parents and how heartbreaking it is for their parents not to feel the same way about each other."
Her mother said she fully supported Hero's new role with the charity and said she hoped their experiences could help others.
"I'm very proud of Hero," she added.
"I think it's a unique approach to get the children to come up with ideas to help with divorce.
"I think it's important as a child to have a moral responsibility and be involved in things that are for the greater good of things."