Affordable homes: £120m plan to build 1,000 in Wales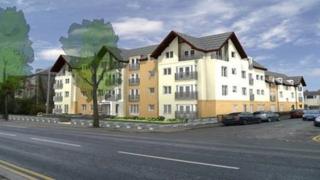 A £120m scheme to help pay for the building of over 1,000 affordable homes in Wales is being launched.
Housing associations will share £4m from the Welsh government every year for 30 years to help them borrow money from a private lender.
They will use the grants to pay back the loans and interest charges.
Housing Minister Carl Sargeant said the Welsh Housing Finance Grant Scheme was part of a search for new ways of increasing the supply of homes.
"It's vital that the private and public sectors are supported in building new homes so that we can continue to work towards - and indeed exceed - our target of providing 7,500 affordable homes during the term of this Welsh government," he said.
Tighter budgets
International asset manager M&G Investments will lend £98m to the scheme - the main new source of finance.
An extra £58m, with no grant attached, is also being borrowed from the firm by the 20 housing associations taking part in the project.
The £4m annual funding from the Welsh government will help the housing associations pay back the money borrowed and the interest on the loans.
Finance Minister Jane Hutt said the grant scheme showed the Welsh government's commitment to finding "new and innovative ways of investing in affordable housing across Wales".
"As budgets get tighter we have to consider all avenues of funding that are available to us to help us deliver our priorities," she said.
"This scheme is a real example of what can be achieved when the public sector and private sector work together."
Nick Bennett, group chief executive of Community Housing Cymru, welcomed the approach.
"With a number of housing associations not having previously used other types of borrowing [such as bonds], this has provided an opportunity to innovate," he said.
The grant scheme is being launched on Thursday with a visit by ministers to one of the first affordable housing projects it is funding - Bronte House in Newport Road, Cardiff.
Developed by Linc Cymru, Bronte House will consist of 38 one and two-bedroom apartments intended for people living in housing association and local authority accommodation who wish to downsize.
Other projects have already been approved at Tyddyn Pandy in Caernarfon, Gwynedd, and Gwaun Helyg in Ebbw Vale, Blaenau Gwent.