April Jones: Memorial garden for murdered five-year-old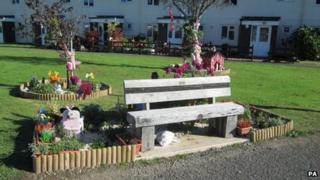 A memorial and tribute garden to murdered five-year-old April Jones has been created on the community green just yards from where the schoolgirl lived.
A blaze of pink greets visitors to the Bryn-y-Gog estate in Machynlleth, Powys, where the schoolgirl grew up.
April was abducted on 1 October 2012 and killed by local man Mark Bridger, 47, in a sexually motivated attack.
A funeral for April will take place on Thursday.
Despite one of the biggest search operations in police history, her body has never been found but Dyfed-Powys Police did manage to recover tiny fragments of bone at Bridger's home.
The remains have been formally released to the family after a coroner's hearing concluded without a verdict.
Bridger was jailed for life after being found guilty at Mold Crown Court in May following a month-long trial.
He will never be released from prison.
A pink dolls' house, pink flowers and pink furry toys form part of the garden memorial.
A wooden seat carrying a brass tag with "April's Bench" and a large picnic table and seating area has been crafted by staff at the nearby Centre for Alternative Technology.
Friends and family
Hundreds of people are expected to turn up to say their farewells to the little girl at Thursday's service at St Peter's Church in Machynlleth at midday.
Parents Coral and Paul Jones will follow the horse-drawn hearse carrying her coffin to the church.
"The memorial and tribute to April was only started about six weeks ago when friends and family got together," explained councillor Michael Williams, who lives on the Bryn-y-Gog estate.
"There are many items of pink making it up and local children have been involved in its creation. It's a very nice area indeed."
He said Coral and Paul, April and family friends were involved in planting fruit tree saplings on one corner of the estate last summer.
It was part of a scheme called Fruit for All promoting a communal area on the estate for the growing of fruit for everyone living there.
This summer that scheme, not far from April's small commemorative garden, has borne fruit.
The small area is another part of the close-knit estate where April's influence is still showing through.
Mr Williams added: "It has been looked after and cared for. People have volunteered to weed and keep it tidy. Perhaps in some way it has eased people's grief."