Welsh Rugby Union pumps record £22.1m into game despite profit fall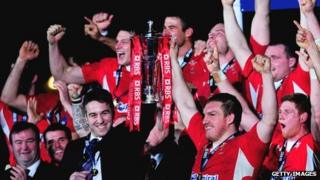 The Welsh Rugby Union (WRU) says it pumped a record £22.1m into the game at all levels last year despite suffering a drop in turnover and profit.
Figures for the Six Nations-winning year ending June 2013 showed the record £63m turnover from 12 months earlier had fallen to £61m.
Pre-tax profits were £2.3m compared to £2.4m in 2012 and while its debt rose slightly, the WRU is aiming to be debt-free by 2021.
It said the results were "remarkable".
Group chief executive Roger Lewis said financial and operational changes made in 2006 had put the business on firm foundations in challenging economic times.
He added: "It costs money to fund radical change and nurture development so I am delighted that we have again been able to deliver meaningful and record levels of financial support within our priority areas of elite rugby, the community game and the Millennium Stadium.
"It is also a tribute to our success and our reputation that we are able to attract key executive staff of the calibre of Josh Lewsey as head of rugby and Mark Williams to become Millennium Stadium manager to join our outstanding executive board."
The WRU also said there were 2,000 new junior players involved in the game.
But the report said senior club-level participation "continues to be a challenge" and the four regions "have yet to achieve their potential either on or off the field".
Player departures
In 18 seasons there has only been one appearance by a Welsh club in the Heineken Cup final.
In December last year, former Wales wing Adrian Hadley said Wales' rugby regions "just aren't good enough" to succeed in the competition.
The four regions have also been hit by a series of high-profile player departures in the past year.
Some of the biggest Wales stars are based outside the country including former Scarlets player George North, who is now with Northampton, and former Cardiff Blues centre Jamie Roberts, who is with Paris side Racing Metro.
The report pointed out that the Millennium Stadium had hosted 11 international football games during the London 2012 Olympics, along with this year's Speedway grand prix and the Rihanna concert.
Mr Lewis added: "Soon we will welcome the rugby league World Cup opening ceremony and matches to the stadium and we are already beginning to plan for the [eight] Rugby World Cup games we will host in 2015.
"These are great times for Wales and we are delighted to be playing our part in making this a great nation to be part of."
Mr Lewis's pay rose from £321,000 to £337,000 according to the report.