Eos music row 'damaging' for BBC Radio Cymru, tribunal told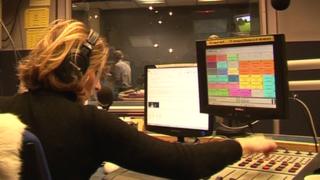 A dispute which stopped Welsh language broadcaster BBC Radio Cymru from playing much of its most popular music was the biggest crisis the station ever faced, its boss has said.
Sian Gwynedd, BBC head of Welsh language programmes, was questioned at a copyright tribunal involving Eos, an agency for some Welsh music producers.
At an interim hearing in April the BBC was ordered to pay Eos £120,000 a year for access to its members' music.
Eos wants it raised to £1.5m a year.
However, the BBC has said an annual payment of £100,000 would be a fair price to pay for the right to broadcast the musicians' work.
Ms Gwynedd made the comment while being cross-examined by Gwion Lewis, the barrister acting on behalf of Eos at the tribunal sitting in Caernarfon.
When asked about the six-week period earlier this year when Radio Cymru was forced to change its schedule and reduce its daily broadcasting hours, she said it involved hard work for everybody, and that it had been a damaging one for the radio station.
Ms Gwynedd was also asked by Mr Lewis to state what proportion of the Radio Cymru annual budget of £15.9m she would be prepared to earmark to pay for the Eos repertoire.
She said it was not her role to calculate a value for the Eos repertoire, but told the tribunal she was actively involved in editorial discussions about programme content that included the promotion of artists, including those whose rights are controlled by Eos.
Suffering 'hardship'
She was also asked by Mr Lewis whether she believed the BBC's proposed annual payment of £100,000 for a licence to broadcast the Eos repertoire was sufficient, but she reiterated that it was the tribunal's role to decide a correct value.
The tribunal has also been hearing from a witness for Eos, board member Dafydd Roberts.
He was asked by the BBC's barrister Lindsay Lane about changes to the public performance element of the PRS royalty payment between 2000 and 2012.
Ms Lane said the figures showed that 2006 represented a high watermark in public performance payments, and that lower fees paid in more recent years were similar to those between 2000 and 2002.
She asked Mr Roberts if this showed that Welsh language musicians had suffered no more hardship in the past few years than they had at the beginning of the last decade.
Mr Roberts said it was true that public performance royalty payments were low during both periods, but that the decline in music sales and the effect of the recession had led to musicians suffering more hardship in recent years.
The tribunal continues.