Bloodhound supersonic car replica on display at Cardiff Bay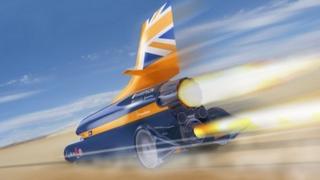 A full-scale model of the UK challenger for the world land speed record has gone on display in Cardiff Bay.
The Bloodhound SSC (supersonic car) aims to break the 1,000mph (1,610km/h) barrier in South Africa in 2015.
Experts at Swansea University have worked for five years on the rocket-powered vehicle's aerodynamics.
More than 100 school pupils visited the exhibit on Tuesday as part of a drive to encourage more youngsters to take up careers in engineering.
The Bloodhound is powered by a rocket bolted to a Eurofighter Typhoon jet engine.
Experts on the team had hoped to begin "low speed" tests - up to 300mph (480km/h) - in November this year.
But safety considerations have put the tests back until summer next year.
A spokesman for the project said: "The dates given in March were rather ambitious as the car is currently well into the build phase and is due for roll out and UK runway testing in Newquay in the second quarter of 2015 where it will reach 200mph max.
"The only other manned vehicles capable of exceeding 1,000mph within Earth's atmosphere are military fighter jets, although none can do this speed close to the ground where the air is thicker.
"Bloodhound's core team of 34 is pushing into wholly unknown territory, creating the most advanced fusion of space, aeronautical and Formula One engineering ever attempted with a budget 6,700 times less than the new F35 fighter."
Bloodhound's one-day visit to the Senedd in Cardiff Bay was arranged in conjunction with the Institution of Mechanical Engineers.
The institution's Wales spokesman, Gareth Cemlyn Jones, said: "We need to encourage more young people to pursue careers in science, technology, engineering and maths (Stem), to ensure we have the right skills to keep the country's economy growing and to tackle the big challenges facing humankind like rising population and climate change.
"Currently the number of people pursuing Stem careers is just not enough to meet future demands, which is why inspiring young people through the Bloodhound SSC project is so important.
"We hope that by showcasing the Bloodhound SSC car people realise the hugely exciting prospects there are in pursuing a career in engineering and Stem more generally."
The Bloodhound team has designed a rocket which they hope will deliver the extra power needed to reach four-figure speeds.
If it achieves 1,000mph, Bloodhound will comfortably surpass the world land speed record set by the British-built Thrust car in 1997 (763mph or 1,228km/h).
Three people who worked on Thrust are also engaged in the Bloodhound project, including the driver Andy Green.