'Bugwatch' checks at three north Wales hospitals by NHS watchdog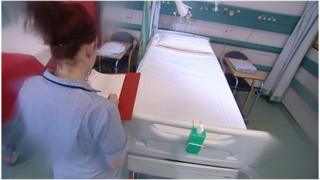 Unannounced inspections are to be held at the three major hospitals in north Wales to check that staff are following infection control guidelines.
Members of North Wales Community Health Council (CHC) will question staff at Glan Clwyd, Denbighshire; Wrexham Maelor; and Ysbyty Gwynedd in Bangor.
The watchdog plans to visit 50 wards as part of its first "bugwatch" survey.
Last month NHS officials apologised for an outbreak of Clostridium difficile (C. diff) at Glan Clwyd hospital.
Between January and May this year there were 96 cases of C. diff infection at the hospital, and at least seven patients who died were found to be carrying the bug.
The outbreak followed a period in which C. diff infection rates within the Betsi Cadwaladr University Health Board (BCUHB) area were higher than in most other parts of Wales.
BCUHB runs health and hospital services across the six counties of north Wales with a budget of around £1.2bn.
The health board's failure to control infections was among the "significant management failings" raised by health and audit watchdogs in June this year.
Their findings led to the organisation's three most senior figures - the chairman, chief executive and vice-chairman - stepping down.
The board later confirmed it was taking steps to improve infection control, recruiting extra nurses and seeking expert advice.
'Raising awareness'
The CHC said it was "getting serious" about seeing that healthcare-acquired infections were tackled.
It is exercising its power to launch unannounced "bugwatch" spot checks to look at the issue of infection control from the patients' perspective.
CHC deputy chief officer Carol Williams said that as well as talking to patients, the health watchdog's visiting and monitoring group would check that staff were regularly washing their hands and following other infection control procedures.
She said: "We do feel that it's a step in the right direction, raising awareness that we're keeping a close eye on this issue.
"They will be doing their own survey based on a questionnaire used by other CHCs in England.
"Cleanliness runs through everything, it's something that everyone has to be doing.
"I really don't think they will be able to do some mass clean up at the same time that they have patients going in.
"If they do, we will be able to pick up on that and the patients would tell us."