RNLI summer rescues rise by nearly half on 2012 figures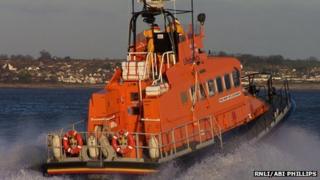 Lifeboats around the Welsh coast made almost half as many more rescues this summer compared to 2012, figures released by the RNLI have shown.
The lifeboats were launched 726 times from June to August, a rise of 43%, and lifeguards responded to 946 incidents.
Rhyl in Denbighshire was the busiest station with 76 call-outs, followed by Tenby in Pembrokeshire with 48.
The RNLI said the hot summer had been one of the busiest in memory with a "huge number of visitors" to beaches.
Twenty-four of the 31 lifeboat stations in Wales reported an increase in emergency calls.
Moelfre RNLI in Anglesey had a brush with celebrity when they were called to assist actress Jennifer Ellison after the fishing boat she and her husband were in suffered engine failure.
Round the coast at Llandudno, rescuers called to help a person in difficulties in the water arrived to discover the man in question was actually an inflatable Mickey Mouse.
Aberystwyth RNLI's own event, the summer flag day, had to be abandoned without notice when young surfers who had been blown out to sea called for help.
Some of the RNLI's more dramatic rescues included five people saved from a burning speedboat at Pwllheli and seven people caught in a rip current at Criccieth.
In Tenby, a volunteer lifeguard from Atlantic College in the Vale of Glamorgan who was on a training swim had to make an emergency rescue after spotting a young child trapped in a cove.
Stuart Thompson, RNLI lifeguard manager for south Wales, said: "This rescue showcases the resourcefulness and commitment that our RNLI lifeguard team has shown across the board this year.
"Not all problems can be anticipated and our lifeguards have to be prepared to respond at a moment's notice.
"The good weather that we have seen this summer has brought a huge number of visitors to our beaches in Wales, and the lifeguards have certainly had their hands full with a wide range of incidents."
RNLI regional operations manager Colin Williams added: "It has been one of the busiest summers I can remember in Wales, with the fine weather seeing people flock to the coast.
"To think 24 of our 31 lifeboat stations in Wales have seen the number of launches rise is astounding and shows the true dedication of our lifeguards and lifeboat crews to saving lives at sea."
The crews also kept an eye on non-human activity with Flint and Rhyl lifeboats helping a young dolphin to deeper water after it took a wrong turn and got stranded on the banks of the River Dee.