Carwyn Jones says Wales Labour government 'example' for party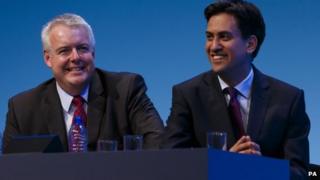 The First Minister Carwyn Jones has told the Labour conference that he leads a government that is "a living, breathing example" of what the party can achieve in power.
Mr Jones defended Labour's record on jobs, the NHS and schools in a speech in Brighton.
Earlier, shadow Welsh secretary Owen Smith said policy announcements by leader Ed Miliband were "fully costed".
Conservatives claim a "black hole" in Labour spending plans.
Wales Labour leader Mr Jones, in his speech, spoke about his party's record in government in Wales.
"We have different policies in Wales because they're right for our people," he said.
"We are building a Wales that's a living, breathing example of what Labour values can achieve when in government."
Mr Jones told the conference that housing benefit changes by the coalition government in Westminster were "40,000 good reasons" in Wales to elect a Labour prime minister.
A reversal of the changes affecting social tenants in England, Scotland and Wales deemed to have spare bedrooms was one of the pledges by Mr Miliband to tackle what he calls a cost of living "crisis".
Labour has said it would also extend childcare.
A Treasury analysis released by the Tories shows Labour promises would require more than £1,000 extra borrowing per household in 2015.
But Mr Miliband described claims of a £27.9bn "black hole" in Labour's spending plans as "nonsense".
This was backed by Pontypridd MP Mr Smith at the conference in Brighton.
"We will pay for it by introducing changes to the law that will allow tax loopholes for hedge funds that the Tories introduced - that's £150m," Mr Smith told the BBC, ahead of his own speech.
"We'd introduce the scrapping of this ludicrous notion of workers being able to sell their employment rights for shares and we'd introduce other changes that offer tax benefits to the construction industry.
"Fully costed, fully paid for, very clear and absolutely the right thing to do."