Paralympic gold medallist Mark Colbourne backs short-journey cycling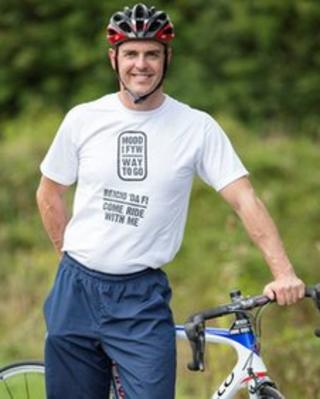 Welsh Paralympic gold medallist Mark Colbourne wants people to use bikes instead of cars for short journeys.
The champion cyclist is promoting the move as part of the Way to Go campaign which encourages people to save energy to improve the environment.
He said cycling or walking is an ideal way to get healthy and save money.
According to the Energy Saving Trust half of all car journeys in the UK are for less than five miles (8km) and cars use more fuel as they warm up.
Sustainable transport charity Sustrans said that on average cycle commute of just under three miles (4.8km) will help to burn off 234 calories.
The Way to Go campaign is backed by the Welsh government and has already encouraged people to turn thermostats down and wear an extra layer of clothing indoors and to boil just enough water in the kettle.
Tredegar-born Colbourne, 42, claimed Wales' first gold of the 2012 Paralympic Games in the C1 3km individual pursuit, setting a new world record.
The cyclist had suffered a broken back and lower leg paralysis after a paragliding crash.
"There's no better way to ease yourself into exercise than by replacing some of your short journeys with a cycle ride or by walking," he said.
"I'd really like to see people in Wales start to realise that walking or cycling for short journeys rather than using the car will help to improve their health, save money on petrol and parking and reduce their impact on the environment."