WRU in rugby drive on street corners and car parks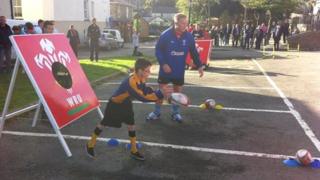 Street corners and car parks are being used to encourage more youngsters to take part in sport.
The Welsh Rugby Union is expanding its Street Stars programme, which uses an obstacle course to teach young people the skills and techniques needed in the game.
It is hoped the drive will motivate youngsters to join a rugby club.
The scheme, which ran in Newport over the summer, will be extended across Wales.
Greg Woods, rugby development manager at the WRU, said: "It's about enhancing your core skills, but the most important part of this is engagement and fun.
"We can turn up in any car park or patch of grass at the heart of the community.
"They can take part with their friends and go to their local rugby club to hopefully enjoy it even more."
Wales international Ryan Jones said the initiative was key to attracting new players.
"It's about getting rugby out in the wider community, giving them a little taster," he said.
"These could be the stars or the coaches of the future but more importantly these are our fans too."