Welsh universities commit to upload lectures and research online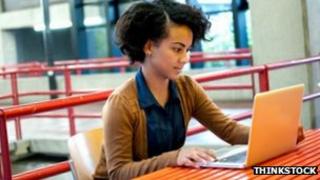 Universities in Wales have agreed to upload lectures and research to the internet in the future so they can be freely accessed around the world.
It means students and teachers in poorer nations will be able to use expensive research work carried out by academics here.
Universities say it will put them at the forefront of a digital education revolution.
Student leaders said the move would create a wider community of learning.
Clive Mulholland, deputy vice chancellor at the University of South Wales, said material published online provides only part of the "learning experience" and so was not expected to have an adverse impact on universities or student numbers in the UK.
"Students are doing more and more online but it doesn't seem to have had an impact on students turning up for lectures," he said.
"The lecture material, what's online, is only the basis of the educational experience.
"It's how those students interact with the material, the lecture, and others students and work together creates that experience."
The announcement marks the intention to develop a "clear working plan" to bring it about. This will include creating a central point of access for the information with a lot of universities already publishing material on their own websites.
The president of the National Union of Students in Wales, Stephanie Lloyd, said it was great to see Wales moving towards open education.
"This will provide a platform to ensure Wales becomes a nation who shares its education creativity and creates a community of learning across the nation," she added.
Prof Colin Riordan, chair of Higher Education Wales (HEW) which represents the interests of higher education institutions, said: "It gives me great satisfaction to sign today's open education declaration of intent and, in so doing, place Wales as one of the first - if not the first - national higher education sectors in the world to declare itself an open education nation.
"Increasing the share of knowledge is a responsibility that we must embrace and we firmly believe that we're fulfilling this obligation by embedding open education practice across the Welsh higher education sector by our intent and our daily deeds."
It follows the launch of the UK's biggest online university project, with more than 20 universities offering free courses.
The UK's project, called FutureLearn, sees UK universities entering the global market in so-called Moocs - massive open online courses.
Students will be able to follow courses on mobile phones as well as computers.