Cyprus fatal boat driver 'did not see airman,' inquest hears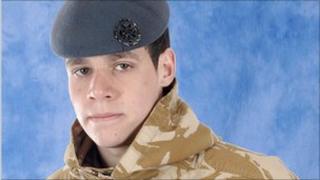 A speedboat driver whose boat struck and fatally injured a Welsh airman in Cyprus said he "didn't know he was there," an inquest has heard.
Senior Aircraftman Scott Hughes, 20, from Y Felinheli, Gwynedd, died two days after the incident where he had been relaxing with fellow servicemen.
Soldiers tasked with overseeing the safety of 250 troops on a stop-over at the beach in November 2010 gave evidence.
The inquest at Llandudno continues.
On Monday, it was told SAC Hughes, who served with 1 Squadron Royal Air Force Regiment, was flown to the island on 4 November, 2010 for two days of relaxation after a six-month tour in Afghanistan.
A number of water-based activities were organised at the base's water sports centre, including the chance to sit in a rubber ring and then be towed along by a speedboat.
Pontoon
Gunner Hughes and two colleagues, Jack Bennett and Jamie Savage, went on the ring together.
SAC Hughes fell off, the hearing was told, and started swimming back to the nearby pontoon, a normal practice.
Shortly afterwards, the boat driver, a civilian contractor referred to as Stelios, dropped the remaining passengers at the shore, unhooked the ring, and moved off towards the pontoon.
The inquest heard that this was when SAC Hughes was struck, suffering severe head injuries. He was taken to hospital in Limassol where he later died.
On Tuesday, the family's solicitor Mark McGhee questioned army personnel about safety at the beach, which was patrolled by lifeguards.
L/Cpl Andrew Collinage, of the Duke of Lancaster's Regiment, told the hearing he had been in charge of boat contractors on the day.
'Spotter'
He said Stelios, a civilian contractor, would tell those passengers what to do after falling off the ring - to put their hands in the air - and he used gestures to make sure they understood his English.
He said Stelios was in severe shock after the incident and said something like: "I didn't know he was there."
Under questioning by Mr McGhee, L/Cpl Collinage accepted that, as he was responsible for health and safety on the beach on behalf of the Ministry of Defence, he would "carry the can" for any systems failures.
The hearing also heard from Lance Bombadier Daniel Drinkwater of the Royal Artillery, who was acting as "spotter" on the speedboat.
He said Stelios was "in bits" after realising the speedboat had driven over SAC Hughes and had said: "No, no, what have I done?"