'Bumper' summer for Welsh tourism, business survey finds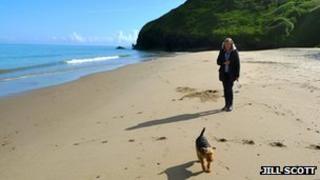 The good weather has been credited for a busy tourism season for many businesses in Wales, according to a snapshot survey.
More than half of 400 businesses interviewed said they enjoyed a higher turnover this August compared to 2012.
But more than a fifth of self-catering accommodation providers had a drop in turnover.
Tourism minister Edwina Hart said the sunshine helped but it was important to attract people in all weathers.
Of the businesses which took part in the Wales Tourism Business Survey, just 16% reported a lower turnover than last year.
Most businesses also said they were feeling confident about the autumn season.
At Plas Glyn y Weddw art gallery at Llanbedrog near Pwllheli, Gwynedd, there had been worries visitor numbers would fall because tourists would prefer the outdoors.
Gallery director Gwyn Jones said: "We've been pleasantly surprised and we think numbers are up because part of the Wales coastal path now goes through the Plas grounds, and so people are visiting both us and the beach.
"It was much busier than we expected it to be, and we've got lots going on at the moment too so it's continuing."
However, 22% of those with self-catering accommodation experienced a lower turnover although that was not reflected everywhere.
Under the Thatch has around 100 traditional properties throughout Wales and the company's managing director Jill Scott said it had been a great summer "after last year, which was a bit of a disaster".
"There were a lot of last minute bookings - I'd say 50% of them were last minute but overall bookings were up 20% on last year," she said.
She thought poor figures for some self catering operators might be due to pricing issues.
"We'd rather they are let out and so we keep our prices affordable and we can also tweak them to suit what's going on - such as when we dropped our prices due to the poor weather last year.
"It also helps that we've got a lot of dog-friendly cottages, because a lot of the people who visit Wales are walkers who want to bring their dogs," she added.
Minister Mrs Hart said it was inevitable that the best summer weather for several years would have given the industry a boost with day trips and last minute break bookings.
"However, it's important that we continue to work with the industry to ensure we have a high quality product which will attract people to Wales - whatever the weather," she said.
"The Visit Wales marketing campaign for the autumn is already underway as we look to welcoming visitors over the autumn and winter months and it's good news that confidence for the coming season is high."
The Wales Tourism Business Survey, for the Welsh government, involved 404 telephone interviews with tourism business owners/managers on 2 and 3 September.