Airman died after being hit by boat in Cyprus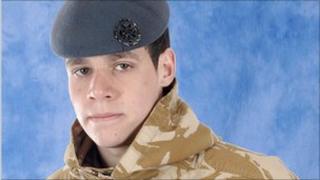 An airman on a Cyprus beach break after finishing his tour in Afghanistan died after being struck by a speedboat as he was swimming, an inquest has heard.
Senior Aircraftman Scott Hughes, 20, from Y Felinheli, Gwynedd, was relaxing with service colleagues before he was due to return home the following day.
He suffered severe head injuries and died two days later in hospital in Limassol, the hearing was told.
The inquest at Llandudno town hall is expected to last until Friday.
It heard SAC Hughes, who served with 1 Squadron Royal Air Force Regiment, had been flown to the island on 4 November 2010 by the military for two days of relaxation.
The gunner and his colleagues had completed a six-month tour in Afghanistan and were on stop-over at the Cyprus Sovereign Base.
A number of water-based activities had been organised on Tunnel Beach, a water sports centre in Cyprus, the hearing was told.
One of these was the chance to sit in a rubber ring, or donut, and then be towed at speed across the water by a speedboat.
SAC Hughes and two colleagues, Jack Bennett and Jamie Savage, went on the ring together.
Pontoon
They both told North Wales Deputy Coroner Nicola Jones that after a couple of minutes of being towed around Jack Bennett fell off.
That was the sort of thing which they had expected and had seen happen to others during the course of the morning, the inquest heard.
As the boat swung around in the sea so that Mr Bennett could climb back on, SAC Hughes also fell off.
He started swimming back to the pontoon where people waited for their turn - again something other people had been doing during the course of the morning if they had come off the ring near the pontoon, the hearing was told.
The boat driver and the man who sat in the back of the boat to keep an eye on the ring and its passengers - the spotter - then told Mr Bennett and Mr Savage they were going for a break.
They dropped them near the shore, unhooked the ring and asked them to reel in the rope.
Having done that, the boat then moved off in the direction of the pontoon.
Swimming
SAC Hughes was still swimming towards the pontoon and the front of the boat hit him, knocking him under the water, the inquest was told.
Those waiting on the pontoon were shouting for the boat to stop.
Ms Jones asked witnesses a range of questions about what instruction they were given over health and safety at the beach.
The inquest continues.