Sir Terry Matthews' organic farming Celtic Manor plan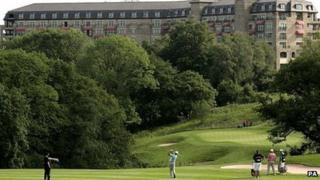 Sir Terry Matthews made his fortune through his electronics empire and put Wales centre stage by bringing the 2010 Ryder Cup to Newport.
Now the billionaire is turning his hand to organic farming in the Usk Valley.
He owns 100 acres of land and wants the valley to become a centre of excellence for organic farming which will supply his Celtic Manor Resort.
Organic Centre Wales welcomed the idea, but there are concerns the organic tag could exclude some good farmers.
The Celtic Manor resort on the outskirts of Newport spends £10m a year on food and the Canadian-based entrepreneur said he wants as much of it as possible to be both locally grown and organic.
The food will be marketed under the Usk Produce brand and he also has plans a tourism spin-off.
In the last year the number of organic farmers in Wales has fallen by 20% for a number of reasons, including the steep rise in the cost of organic feed for animals.
While Sir Terry said he was concerned about the decline, he felt there was still a growing movement towards using organic food.
While his latest project stands to benefit the Celtic Manor by having a easy local supply of organic produce, Sir Terry said the plan would also benefit farmers who work land around it.
"It will take getting together with all the farmers to have some sort of co-operation... and to get a brand which would be recognised," he said.
"But I'm pretty sure we could do it."
'Red tape'
He went on: "Already we have been encouraged to run a farmers' market and encourage a farmers' market in Newport."
Sir Terry said he would put funding into the project and would encourage his hotel's clients to also move in the direction of organic.
"It's already started," he said. "We will keep up the momentum now."
Simon Gibson, chief executive of Sir Terry's company Wesley Clover Corporation said: "We're blessed being in a hinterland which I think is one of the best food baskets in Britain and we don't play it up enough.
"There's the Usk Vvlley, the Wye valley, southern Herefordshire with its potatoes, fruits, and then we've got the areas around Powys for livestock production - it's an amazing place for food."
Monmouthshire organic farmer Ruth Tudor described the plan as "very significant".
"It seems like a very bold, clear commitment to organic farming and I think the benefits will go beyond farming to the whole community," she added.
"I feel we don't value enough the excellent food we grow and so if we have some security we can make some long-term investment in our land and community."
Monmouthshire chef Matt Tebbutt, who runs The Foxhunter restaurant near Usk, said he believed the idea would help local farms but was worried other good farmers could be excluded.
"The tricky thing is centring it on being organic," he said.
"That's a term that could be misleading. I think there's a lot of good farmers out there that are free-range, that have organic sort of motivations but don't necessarily have the money to cut through the red tape of being organic.
"And I think it would be a shame to miss those people."