Kirsty Williams: Lib Dems 'must steer UK powers debate'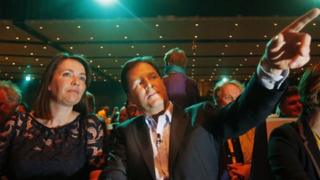 Lib Dems need to stop the Scottish National Party from running the UK's constitutional agenda, says the Welsh Liberal Democrats leader.
Kirsty Williams told her party conference in Glasgow to campaign to persuade Scotland to stay in the UK.
Scotland votes in an in-out referendum in a year's time.
Ms Williams said federalism and devolution was not just a Scottish or Welsh idea but a "key Liberal Democrat philosophy."
Speaking in Glasgow, she warned that the Lib Dems had to campaign harder than ever before to persuade Scotland to remain in the UK.
She said: "In just over a year, the people of Scotland will come to a fork in the road.
"As Liberal Democrats we must welcome the opportunity for the people of Scotland to have their voice heard in a referendum,
"But also, as Liberal Democrats, we must campaign harder than ever before to persuade the people of Scotland to remain with us.
"Our mantra of being stronger together in the European Union applies equally, if not more, for the union of the four nations that make up the United Kingdom."
Ms Williams said the party had to steer the debate towards what she called a more balanced settlement.
She said: "A settlement that recognises the need for more autonomy across the UK, in Wales and Scotland, yes, but also London, England, the regions.
"On this most important of issues, people agree with us."
"Only 9% of people in Wales want independence but they do want more powers."
'Spending responsibility'
She said Lib Dem ministers in the UK government would press for the Welsh government to get the power to get control over some taxes and vary income tax rates.
Ms Williams said: "This isn't power for its own sake.
"Wales needs power over stamp duty to boost the housing industry.
"Wales needs the power to vary income tax to ensure the Welsh government takes responsibility for spending.
"Wales needs borrowing powers to invest in infrastructure to stimulate the economy."