Welsh Lib Dems blast education standards under Labour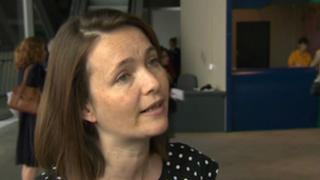 Children in schools in Wales are in danger of falling further behind their counterparts in England, claims the leader of the Welsh Liberal Democrats.
Kirsty Williams said more money was being spent per pupil in England which was an "inequality" in the system.
She was speaking before addressing the Liberal Democrats' UK conference in Glasgow on Monday.
The Welsh government said it was providing funding to support disadvantaged pupils.
Ms Williams said education would be a key Lib Dem priority in the next round of deals with Labour on the Welsh budget, and her party would be pressing the issue hard.
Last week, the Welsh Conservatives accused Plaid Cymru and the Liberal Democrats of being too cosy and "settling for chicken feed" in budget deals with Labour.
But Ms Williams, who is Assembly Member for Brecon and Radnorshire, rejected those claims.
"We are committed to giving everyone a chance to get on in life," she told BBC's Sunday Politics Wales programme.
"We want more money for the education of our poorest children not only for their sake but for the sake of the Welsh economy in the future - and if the Tories aren't interested in that, that's very disappointing.
"I care about the education of our poorest children, I care about creating a stronger economy and a fairer society in Wales and that's what I'm committed to doing."
There has been concern that the exam results of students in Wales have been trailing those of their counterparts elsewhere.
GCSE passes at A*-C in Wales this year were 65.7% compared to 67.9% in England and 76.5% in Northern Ireland.
Assembly Members return to the assembly from their summer recess on 23 September.
With 30 out of the 60 seats in the assembly chamber, Labour needs support from one of the other parties to get its budgets passed.
Ministers will publish their draft budget on 8 October, kicking off a round of inter-party talks which give the opposition a chance to extract concessions from Carwyn Jones's minority administration.
'Highest standard'
And Ms Williams said education would be a priority going into those talks.
"Why should it be that a pupil from the poorest background in Wrexham gets £450 extra for their education whereas if they were across the border in Cheshire, they'd get £1,500?" she added.
"That's an inequality. Welsh children are in danger of being left further behind because of the Welsh Labour government.
"Education used to be of the highest, highest standard in Wales - something we prided ourselves on - but unfortunately after a decade of Labour rule in Cardiff, we've slipped further behind.
"I want to change that and I want to start with the children who need the help the most.
"We are going to keep pressing the Welsh Labour government to do the right thing."
The Welsh government said the education minister had "identified eradicating deprivation as one of his top three priorities as did the former education minister".
"Funding through the pupil deprivation grant has been introduced to allow flexibility for schools to support pupils who are disadvantaged," said a spokesperson.
Labour AM Jenny Rathbone told Sunday Politics Wales: "We all recognise that we need to improve our education system and the Welsh Labour government is improving the education system.
"We have to ensure that we do at least as well as the rest of the UK as a whole but we actually have ambitions to do better than that.
"We really need to have the skilled workforce that employers tell us they need. We're putting a huge amount of effort into getting more students studying the science, engineering, technology and maths subjects which we know employers are saying they need more of.
"We need to ensure that our education system is serving the needs of our pupils and of our economy."
Last month, the Tories said they would revive "the best elements" of the old grammar school system if they were in power.