Tiny parking space at Burry Port baffles drivers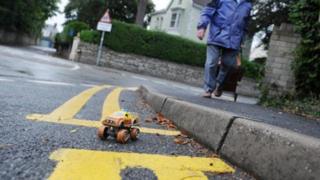 A parking space that is just nine inches (23 cm) wide is baffling drivers in a Carmarthenshire town.
The gap between two sets of double yellow lines in Burry Port is only big enough to park children's toy vehicles.
It was created by separate teams of workmen, one for a public road and the other for a private road.
Carmarthenshire council said it was a result of "road ownership" and only one set of double yellow lines was painted by its workmen.
Residents have been amusing themselves parking toy cars and buses in the space since it was noticed two weeks ago.
Bus tour manager Emyr Phillips said: "I couldn't believe my eyes when I spotted it. You could just about fit a bike in there sideways - or maybe a pogo stick.
"But my favourite thing was to put a toy bus in there just to have a laugh at it.
"My bus money box was just about the right fit. I really don't understand why the space is there."
Local authority workmen painted one set of double yellow lines on the stretch of road owned by the council.
The other set of yellow lines is on the private road which leads to a GP surgery.
The reasoning behind the gap is to show where the public road ends and the private road begins.
A council spokeswoman said: "The section of double yellow lines leading to the surgery is on a private access road and the council would not have undertaken this work.
"It is likely the surgery would have arranged for the yellow markings to restrict parking on the access road.
"The break in the lines is required as this shows the termination of the traffic order on the public road."