'Church must look to future' as diocese celebrates 90th anniversary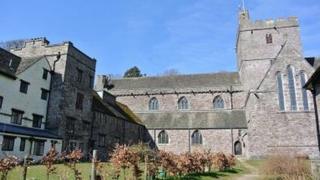 A bishop says the church must look to the future rather than be absorbed by nostalgia, as the Diocese of Swansea and Brecon celebrates its 90th anniversary.
The Right Reverend John Davies made his comments ahead of a Church in Wales service of thanksgiving at Brecon Cathedral on Saturday.
He said the only way to celebrate the past was to plan for the future.
The diocese covers the Gower, Swansea, the Swansea Valley and south Powys.
Bishop Davies said: "The marking of any anniversary can, all too easily, be absorbed entirely with reminiscence and nostalgic reflection about the past.
"The only way to truly celebrate a valued past is to plan for a faithful future.
"Without commitment to the future this service is a meaningless nonsense."
He said he hoped the anniversary would be seen as "the chance to make the 10 years leading to our centenary a time of new heart, new ideas and new life in our parishes and communities".
A combined choir of cathedral choristers and those from churches across the diocese were helping lead Saturday's thanksgiving service.