Black Country ale lovers call time on Wales pub crawl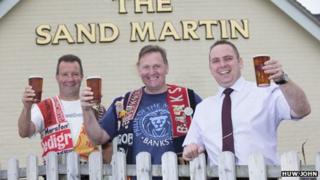 A group of real ale fans from the West Midlands have finished their challenge to visit every pub in Wales.
Their seven-year mission came to an end when they visited The Sand Martin pub next to Cardiff City stadium.
The self-styled Black Country Ale Tasters said they had notched up 3,905 pubs, and driven over 76,000 miles.
They have raised £11,000 for local charities along the way, with their last visit raising money for the Noah's Ark Children's Hospital for Wales.
The ale lovers consist of a dedicated group including Pete Hill, a machinist from West Bromwich, and friends John Drew and Malcolm Maynard.
They began their organised pub crawling in 1984 and by 2003 had earned a place in the record books after visiting inns in every county of England, Wales and Scotland.
It was the idea of Mr Hill's father, Joe, to turn their attention to Wales. He served in the army with a lot of Welsh soldiers and hoped he might "bump into some of them along the way".
Calling card
They say they picked Wales because it has a manageable number of pubs whereas to do the same in England would have taken far longer.
Mr Hill said the pub crawl had taken up every weekend and holiday.
He said: "Every single holiday we've been to Wales for the last seven years.
"Around Cardiff there are 278 pubs so we had a half in a lot of them, until we stopped in our favourite ones where we stopped for a pint."
At each pub the team leave their Black Country Ale Tasters calling card and take a staff signature before they leave.